Are you torn between investing in tax-saving bonds or a fixed deposit? Making the right financial decision starts here. In this comprehensive guide, we unravel the age-old debate of bonds vs. fixed deposits. We'll help you understand the key differences, risk factors, potential returns, and which option aligns best with your financial objectives. Let's dive into this comparison and empower you to make a confident investment choice.
In India, Fixed Deposit is one of the go-to investment instruments for us as it is one of the safe investment instruments and offers fix interest rates.
But, does it offer you any tax benefits?
If you are getting the same returns and safety as FD along with tax benefits then would you choose FD? So, which investment instrument we are talking about here? Yess!! We are talking about Tax Saving Bonds.
What are Tax Saving Bonds?
– The Government offers few tax benefits on bonds offered by government undertakings in order to encourage more investors to participate in these bonds and help finance the infrastructure needs of India.
– They come with a lock in period of 5 to 7 years with a fixed interest rate.
– They are one of the investment instruments that are low risk and provide similar returns as FD.
– One can save taxes by investing in these bonds under Sec 80CCF upto ₹20000 and are excluding the ₹1.5 Lakh deduction offered under 80C.
– These bonds are in a form of paper that bear the name of owner and the issuer of bonds.
– They provide a rate of interest between 6%-8% depending on the issue price at the time they are issued.
– They are one of the good options for people looking for safe, tax efficient investment instrument and have mid to long term investment horizon.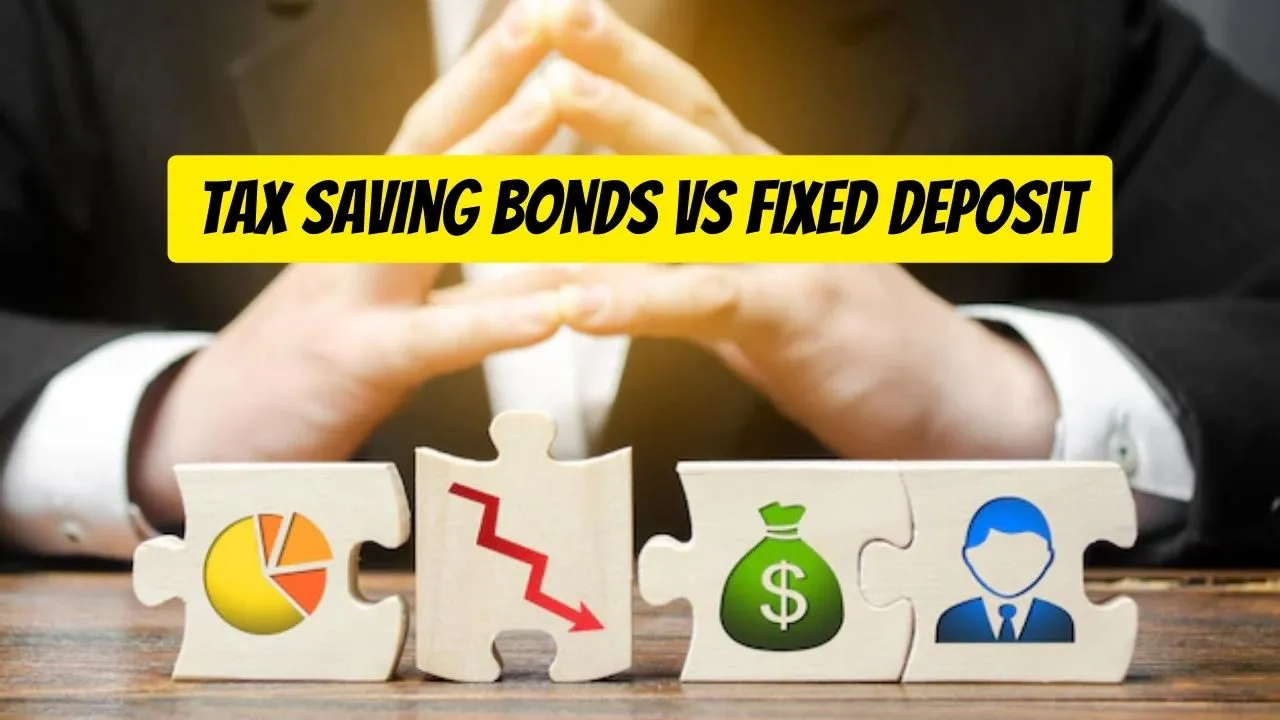 What are Fixed Deposits?
-Fixed deposits are financial instruments provided by banks, non-bank financial institutions, and post offices which is a guaranteed return investment option for fixed maturity time.
– In India, FD is a popular investment option because it offers a higher rate of interest than a regular savings account.
– As per the Income Tax Act, 1961, the interest earned on fixed deposits is added to the 'Income From Other Sources' and is fully taxable.
– The interest you earn on a fixed deposit is taxable as per your income tax slab. So if the interest rate of the FD is 5%, the post-tax rate would be 3.5% if you fall in the 30%.
– If your interest income exceeds Rs 40,000 (Rs 50,000 in the case of senior citizens) then banks need to cut 10% TDS on your interest.
So, after learning both instruments let's learn how you can get tax benefits through an example:
If Mrs. Sharma aged 35 years earns ₹12 lakh annually. She also invests in other tax saving instruments such as PPF, ELSS and NPS so her limit of Section 80C of ₹1.5 lakh is exhausted. She wanted further tax benefits so, she opted to invest in tax saving bonds which offered tax benefit under sec 80CCF up to ₹20,000, she invested ₹40,000 at 7%.
So, let's have look what is the tax liability of Mrs. Sharma if she invested in Tax Saving Bonds and also have a look what if she was investing ₹40,000 in FD at 7% instead of tax saving bonds.
| | | |
| --- | --- | --- |
| Particulars | Invested in Tax Saving Bonds | Just invested in Sec 80C investment instruments and FD |
| Income | ₹12,02,800 (Income+Tax Saving Bond Interest) | ₹12,02,800 (Income+FD Interest) |
| Less: Sec 80C Deduction | ₹1,50,000 | ₹1,50,000 |
| Less: Sec 80CCF Deduction (Tax Saving Bonds) | ₹20,000 | – |
| Total Income | ₹10,32,800 | ₹10,52,800 |
| Tax liability (Calculated as per old regime slab rates) | ₹1,22,340 | ₹1,28,340 |
As you can see in the above table, you can save ₹6000 on your tax by just investing Tax Saving Bond. If Mrs. Sharma had invested in FD then she would have to pay tax on interest earned as well as she won't get any taxation benefit.
While if she invests in Tax Saving Bond, she will have to pay tax on interest earned and at the same time she can get taxation benefit under Sec 80CCF.
So, choose the investment instrument according to your need and goals. If your goal is to save tax and you can serve the 5 years lock in period then you can opt for these bonds as they offer same interest as well as safety as Fixed Deposit.
Related Article You May Like:- Sovereign Gold Bond 2023: Golden Investment Opportunity
---
FAQs – Common Questions on Bonds vs Fixed Deposit
1. Which is better, a bond or a fixed deposit?
It depends on your financial goals and risk tolerance. Bonds offer periodic interest payments and can vary in risk, while fixed deposits are more stable but may offer lower returns. Choose based on your needs.
2. Are RBI bonds better than FD?
RBI bonds may offer security and tax benefits, but their returns can be lower compared to fixed deposits. Consider your risk appetite and financial goals when deciding between the two.
3. Are bonds tax-free in India?
Not all bonds are tax-free in India. Some government bonds, like Sovereign Gold Bonds, offer tax exemptions on capital gains. However, the interest income from most bonds is taxable. It's essential to understand the tax implications of specific bonds.
Opening your LXME account is easier than taking the perfect selfie! Watch this video and try it now! ⬇⬇
To stay connected with LXME and access inspiring content, follow us on Instagram and subscribe to our YouTube channel.
If you found this helpful, share this blog with your friends and family!!
Download the LXME app now to start investing!
other blogs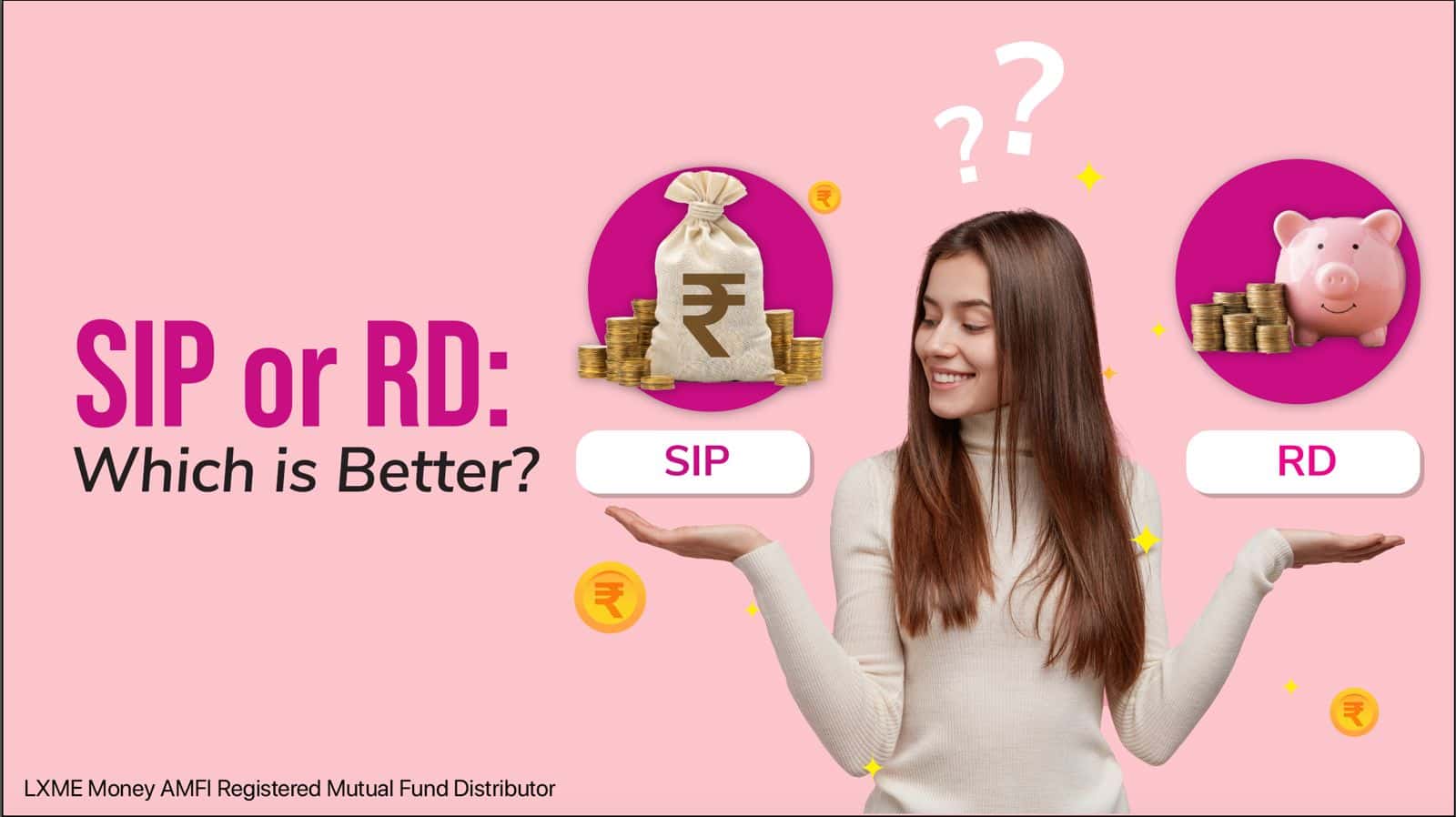 Smart Money
November 23, 2023
Is SIP better than RD?
In this inflation-bearing world just investing in Recurring Deposits (RD), Fixed Deposits(FD), Physical Gold, Savings Deposits, etc. is not enough as their returns cannot beatinflation. Besides, women are very conservative investors and prefer RD over mutual funds,however, now its time to upgrade ourselves. So, what should one do to get inflation-beating returns and get the … Is SIP better than RD?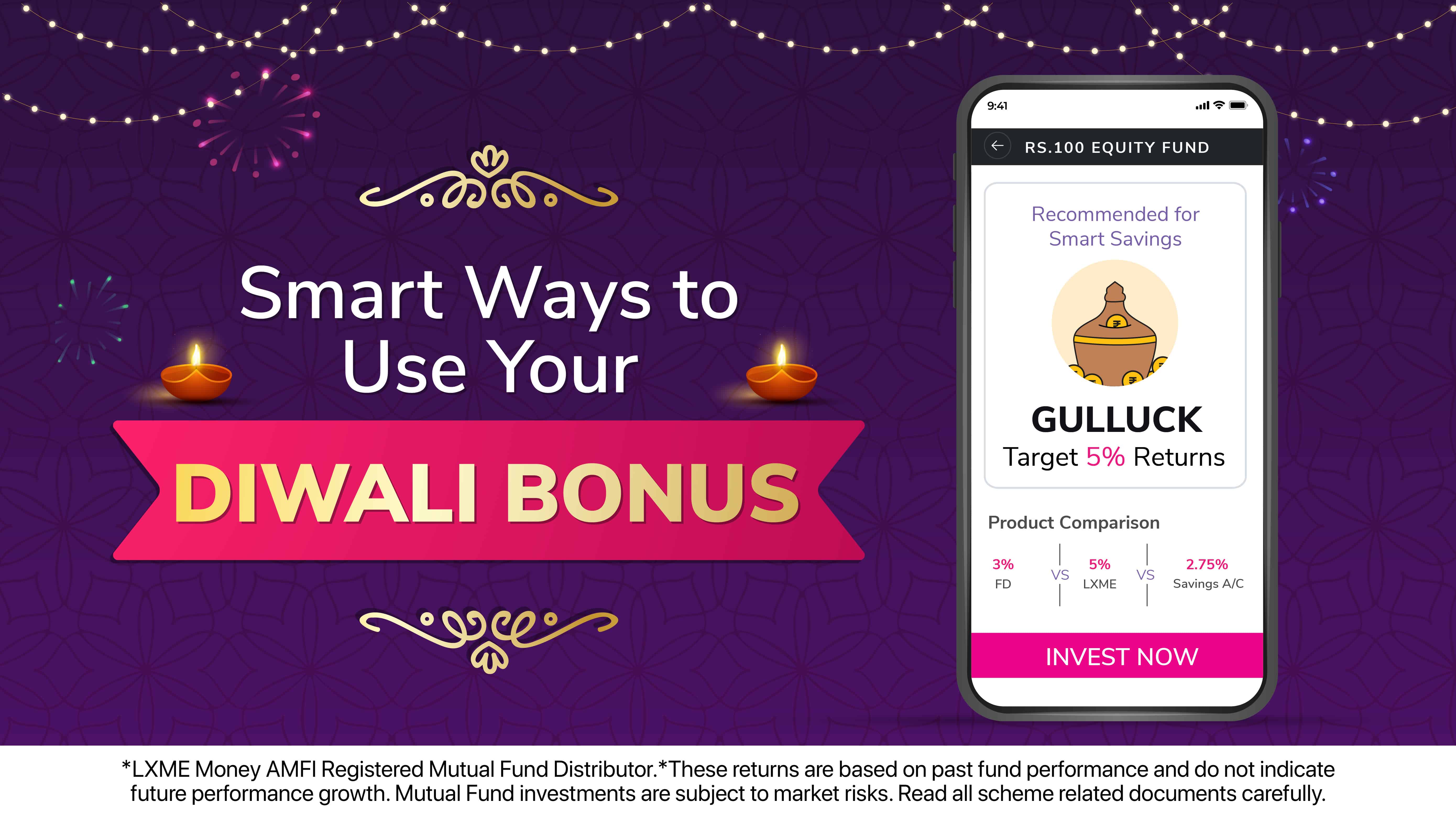 Smart Career Smart Money
SMART WAYS TO USE YOUR DIWALI BONUS
It's always a great surprise to receive that well-deserved bonus during Diwali, after all, Lakshmi ko kaun mana karta hai? But spending that bonus is the trick most of us struggle with. Don't worry, LXME will teach you how to spend bonus money and how to invest bonus money. Let's follow the 50, 40, 10 … SMART WAYS TO USE YOUR DIWALI BONUS