When it comes to investing in Gold, many women instinctively think of heading to a local jewelry store. After all, the allure of those glittering necklaces and sparkling rings is hard to resist!😜
But what if we told you that there's a smarter, more convenient way to make Gold work for your financial future?
Enter Sovereign Gold Bonds!😎
These Bonds offer a modern twist to your traditional gold investments. They not only allow you to own gold but also eliminate the need and risk for storing and safeguarding it plus adding a range of other benefits!
Let's explore how Sovereign Gold Bonds can be a savvy choice for women looking to diversify their portfolios, providing a hassle-free and secure path to invest in this timeless asset class – Gold!
What are Sovereign Gold Bonds?
Sovereign Gold Bonds are government securities denominated in grams of gold introduced in November 2015. They are issued by RBI on behalf of the Government of India, allocated in units where each unit is equivalent to 1 gram of gold. It is like buying real gold but in certificate format. These bonds are issued in tranches.
Who is eligible to invest in Sovereign Gold Bonds?
Persons resident in India as defined by the Foreign Exchange Management Act, 1999 are eligible to invest in SGB. These include:
Individuals
Hindu Undivided Family
Trusts
Universities
Charitable Institutions
What is the minimum and maximum investment required?
For Individuals and HUF – Minimum is 1 gm of gold and Maximum is 4 kg of gold
For Trusts and similar entities – Minimum is 1 gm of gold and Maximum is 20 kg of gold
What are the features of Sovereign Gold Bonds?
SGBs are issued in denominations of one gram of gold and multiples thereof.
The maturity period of the sovereign gold bond is eight years.
However, early redemption is allowed from the fifth year onwards.
After completing five years of investment, you have the option to trade them on the Stock Exchange. However, it's more beneficial to stay invested till maturity period.
Only RBI can issue SGBs on behalf of the Central Government. Investors will receive a holding certificate for their gold bond investment. Furthermore, one can also convert it to a Demat Form.
Can be used as collateral for loans.
The price of Sovereign Gold Bonds is fixed on the basis of a simple average of the closing price of gold of 999 purity, published by the India Bullion and Jewellers Association Limited for the last three working days of the week preceding the subscription period.
What is the tax implication on SGB?
Understanding the tax implications of SGBs is crucial for informed investing-
Tax on interest income: The interest income on SGBs is taxable according to your Income Tax Slab.
Capital Gains:
– If the bond is held till maturity of 8 years, then Long Term Capital Gains arising on maturity of SGB will be Tax- Exempted.
– In case of early redemption after 5 years, Long Term Capital Gains will be taxed at 20% post indexation.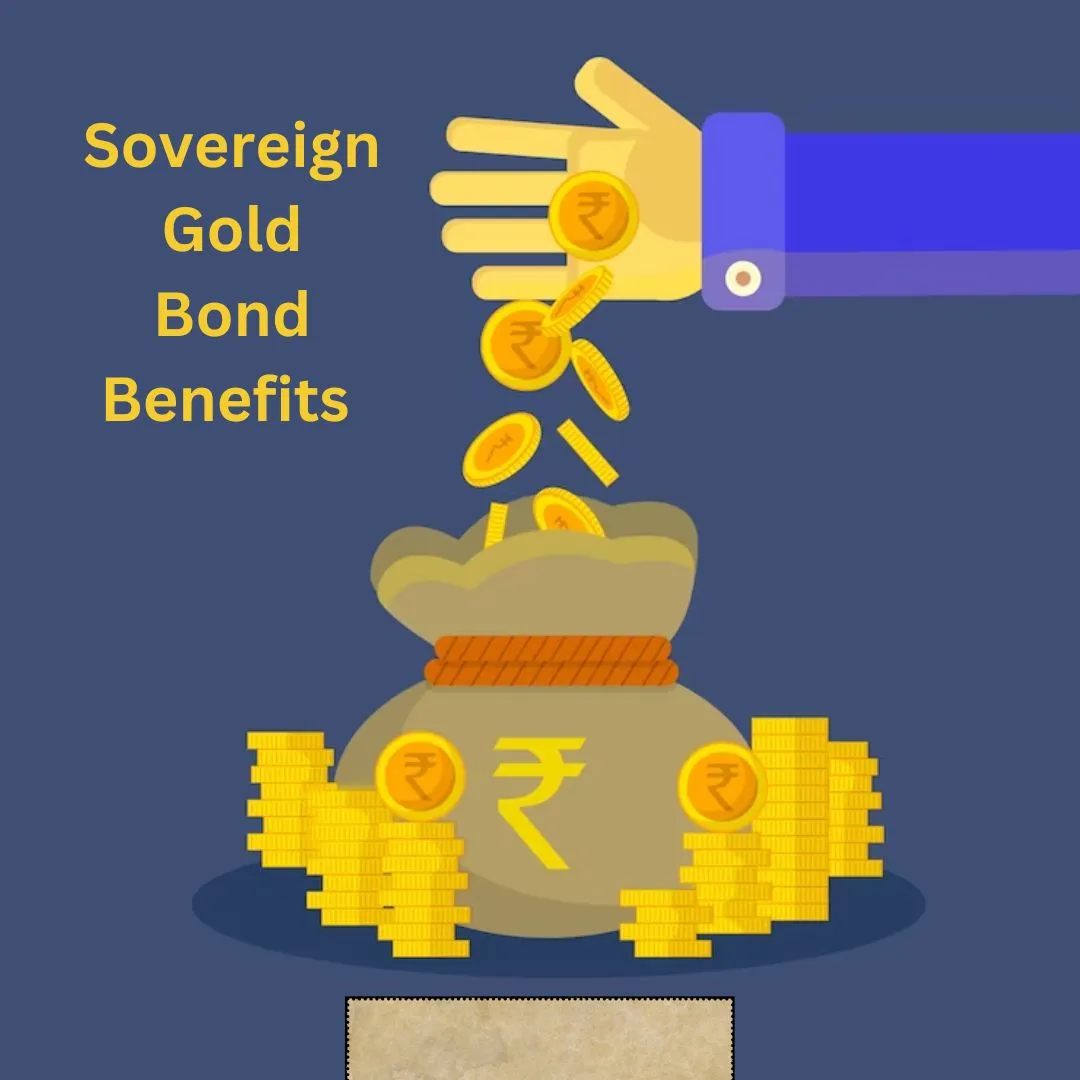 What are the benefits of investing in SGB?
Regulated: SGBs are issued by RBI on behalf of the Indian Government making it a safe way to invest in gold.
No making charges: When you buy physical gold you pay extra for making jewelry. But with Sovereign Gold Bonds, you don't. You get the full value of your gold.
No extra costs: There are no other costs like you have to pay for physical gold. You don't have to pay any storage or insurance costs. Plus there's no Goods and Service tax(GST) to worry about.
Purity intact: The purity of gold always remains a question when buying physical gold. But with SGB, the purity of gold is guaranteed, eliminating any concerns about its quality.
Tax efficiency: SGBs offer tax benefits, with the potential to get capital gains tax exemption upon maturity after 8 years.
Interest income: Apart from the capital appreciation, you also earn 2.5%p.a interest . This interest is paid semi-annually.
No risk of theft: Physical gold can be stolen, but these bonds are stored electronically, so you don't have to worry about theft.
How does LXME simplify the process of buying SGBs?
LXME provides step-by-step guidance throughout your SGB purchase journey.
When the tranche opens, LXME will provide a Google Form link for you to fill in your details and our team will guide you further. Keep your Aadhaar Card copy, Pan Card Copy, bank account details and CML report(if linking with your demat account) ready.
For any queries you can contact us on 0291- 6661010 or email us at contact@lxme.in .
*Please note that the current tranche is live from from 11th to 15th September 2023, and the bond will be priced at ₹5,923 per gram. Additionally, customers who purchase online will enjoy a discount of ₹50 per gram. Post discount price will be ₹5,873 per gram.
Conclusion:
We Indian women have a Social and emotional connection with gold due to culture. Therefore, it's now time to embrace a more strategic approach to gold investing.
Sovereign Gold Bonds offer a secure and convenient way to invest in Gold. Their unique features and tax efficiency make them a great choice for investors.
Remember, investing is a journey that requires continuous learning. Keep yourself updated and make smart choices that align with your financial goals. By doing this you can have a strong, diverse investment plan that fits your dreams.
Related Article You may Like :- Sovereign Gold Bond Detail Guide
---
FAQs- Frequently Asked Questions
1. Can we buy SGB through LXME?

Ans. Yes, you can buy SGB through LXME. When the tranche opens, LXME will share a google form link with all of you. Fill in your details and submit the form. Sit back and wait for a LXME team member to contact and guide you further! In case of any queries, feel free to call us on: 0291- 6661010 or send an email: contact@lxme.in 
2. How is the interest paid on SGB?
Ans. You get 2.5% p.a interest over and above capital appreciation. The interest is paid semi-annually directly to the investors bank account.
3. Can I use Sovereign Gold Bonds as collateral for loans?
Ans. Yes, you can use SGBs as collateral for loans from banks, financial institution and Non-Banking Financial Companies(NBFCs)
4. What is sovereign gold bond?
Ans. – SGB is a government security denominated in grams of gold.
– It is issued by the Reserve Bank of India on behalf of the Government of India.
– SGB is a substitute for holding physical gold and offers several benefits.
– Benefits include interest over and above gold price appreciation, tax benefits, and no making and wastage charges.
– SGBs can be held in demat form and traded in the secondary market
– The minimum investment is 1 gram and investors earn returns linked to gold prices
Share this blog with your family and friends if you find it insightful!!
Download the LXME app now to start investing in SGB!
other blogs