SIP Inflows touch all time high despite market decline in March 2020
Investments in mutual funds through SIP touched an all-time high of ₹ 8,641 crore in March 2020 as per latest AMFI data. This, despite an over ~30% decline across the broader stock market during the month. Retail investors continued to invest in the mutual funds through systematic investment plans (SIP)- adding more folios and AUM particularly in equity mutual funds.
FY21 also witnessed total inflow through SIP investments crossing ₹ 1 trillion mark during the 12 month period vs ₹ 92,693 crore in FY20.
SIP inflows FY21 vs NIFTY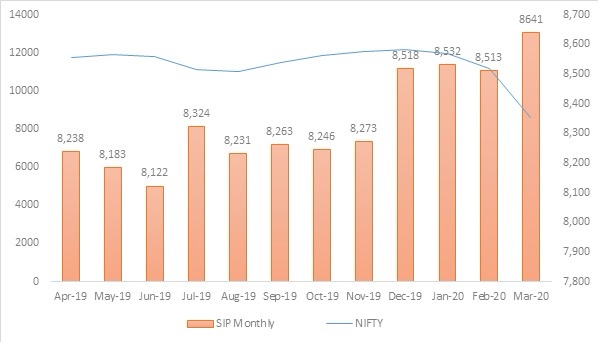 What does one infer from the steady increase in SIP AUM by retail investors?
Systematic investment plans is also about maintaining discipline while investing. A steady increase in monthly SIP investments indicates growing discipline among retail investors.
In addition, retail investors seem to have used this crisis and the market correction as an opportunity. Continuing with your SIPs helps average investments and improve your overall returns through compounding, once the markets recover.
So, have you made the most of this market correction?? This is a good time to begin your SIP investments for long term financial goals.
other blogs