In every sector, women are earning a place for themselves. Many women today have financial freedom and can make the smartest life decisions. They also pay taxes and carry out their responsibilities as taxpayers. The Indian government provides a variety of tax benefits for women, including tax rebate for women and exemptions. It is beneficial since it helps increase one's savings.
Every woman needs to pay taxes based on various tax slabs. Tax-slab means you pay taxes based on your income. You will have to pay more taxes to the government if you make more money. This form of tax policy allows the country to have a fair tax system.
Women and men had different income tax slabs up until the Financial Year (FY) 2011-12, with women paying somewhat less tax. However, beginning in the fiscal year 2012-13, this was removed, and tax slabs for men and women were equalized.
Income Tax Slab Rates applicable for women:-
Individual taxpayers, including women, are classified into three groups:
Taxpayers under the age of 60 (including residents and non-residents).
Taxpayers who are over 60 but under 80 years old, are known as Senior citizens.
Taxpayers who are over the age of 80 years, are known as Super Senior citizens.
As of now, women have two options in choosing a tax regime. The tax regime specifies the tax rates and slabs. Basically, in the Budget 2020-21, the government introduced a New Tax Regime with small slabs, and in this regime, taxpayers have to forgo certain tax exemptions and deductions.
But what are the New Tax Regime and Old Tax Regime?
Let's have a look at the Old Tax Regime and the New Tax Regime in detail.
OLD TAX REGIME
| | | | |
| --- | --- | --- | --- |
| Particulars | Below 60 years | For 60-80 years | Above 80 years |
| Up to ₹2.5 Lakhs | Nil | Nil | Nil |
| ₹2.5 – ₹3 Lakhs | 5% | Nil | Nil |
| ₹3 – ₹5 Lakhs | 5% | 5% | Nil |
| ₹5 – ₹10 Lakhs | 20% | 20% | 20% |
| ₹10 lakhs and above | 30% | 30% | 30% |
NEW TAX REGIME
| | |
| --- | --- |
| Particulars | Rates |
| Up to ₹2.5 Lakhs | Nil |
| ₹2.5 Lakhs – ₹5 Lakhs | 5% |
| ₹5 Lakhs – ₹7 Lakhs | 10% |
| ₹7.5 Lakhs – ₹10 Lakhs | 15% |
| ₹10 Lakhs – ₹12.5 Lakhs | 20% |
| ₹12.5 Lakhs – ₹15 Lakhs | 25% |
| ₹15 Lakhs and above | 30% |
Apart from the tax rate given above, you also need to pay a Health and Education cess of 4%. It is charged as a fee to taxpayers to help support various government welfare programs, such as primary and secondary education and health infrastructure.
Tax Relaxation for female– The basic tax relaxation or exemption for all individuals, including women under both the tax regimes, is up to ₹2.5 Lakhs.
Tax Rebate for women – The tax rebate for ladies and other individuals is up to ₹12,500 on their taxes. Tax rebate for women will only be eligible if the total income earned in a year is up to ₹ 5 Lakhs.
Does Tax rebate for ladies available under the New Tax Regime?
Yes, absolutely. Even if you are opting for New Tax Regime and your total income is up to ₹5Lakhs you can avail tax rebate of up to ₹ 12,500.
Which Tax Regime will you opt for?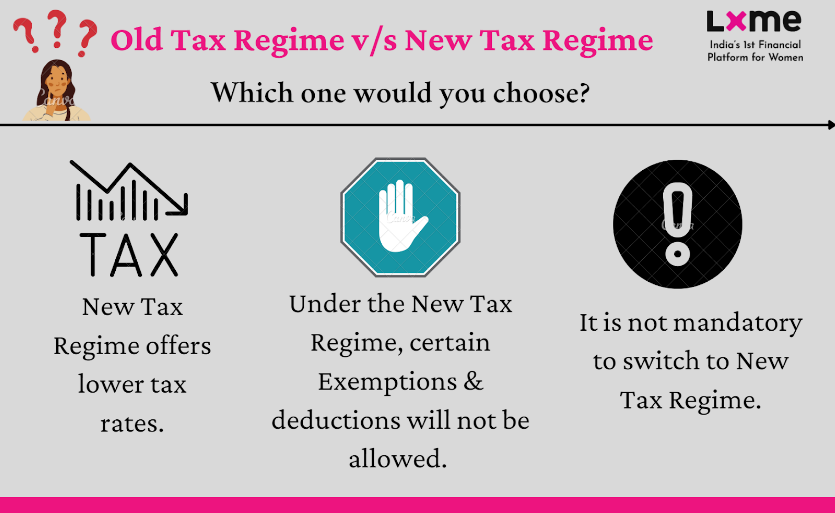 👉 The slab rates charged under the New Tax Regime are lower than the Old Tax Regime.
👉 If an Individual opts for New Tax Regime, she will not be allowed to claim certain exemptions & deductions. ( For example, The deduction of Medical Insurance premiums will not be allowed in the New Tax Regime).
👉 It is not mandatory to switch to the New Tax Regime.
👉 Calculate your tax with both the regimes and choose the one where you have to pay less tax.
Various Tax Relaxation for female
Whether you are a salaried or a self-employed woman, there are some tax-saving tricks ‌ you need to know to avail of tax benefits. Following are some of the major tax benefits for women.
Section 80D of the Income Tax Act, 1961 allows a tax deduction of up to ₹ 25,000 per year for paying health insurance premiums, with an additional deduction of ₹ 50,000 for policies purchased by or for senior citizens. This benefit applies to your own health insurance premium and the premiums paid for your spouse, children, and parents. By taking a good health insurance policy for yourself and your loved ones, you can not only minimize your healthcare expenses but also save on tax.
Section 80C of the Income Tax Act, 1961:
This section allows for a deduction of up to ₹ 1,50,000 for investing in tax-saving options. Some investment options available in this section are:
Public Provident Fund (PPF)
Employee Provident Fund (EPF)
Equity Linked Savings Scheme (ELSS)
Life Insurance Premium
5-year tax-saving Fixed deposit
Tuition fees of children
You can claim this deduction either for investing in one instrument or for investing in multiple options. The cumulative deduction should not exceed Rs.1,50,000.
Sukanya Samridhi Yojna (SSY):
Under this scheme, you can deposit up to Rs.1,50,000 per year and get a fixed return of 7.6% as of March 2022. This is available for a girl child under 10 years of age. The interest earned and the maturity amount are tax-free. There is a lock-in for this investment. The scheme will last till the girl turns 21 years of age or gets married (whichever happens earlier). Once the girl turns 18 years of age, you can apply for a premature withdrawal of up to 50% only for her higher education.
If you have taken a Home Loan, you can claim a tax deduction on the interest component of the loan under Section 24(b). For self-occupied properties, you can benefit from deductions of up to Rs.2,00,000 under the head 'Income from House Property'.
However, to claim this, the acquisition or construction of the property should be completed within five years from the end of the financial year in which the loan was taken. If not, the deduction will be limited to Rs.30,000.
Now that you know about some of the Income Tax sections, Old & New Tax Regime, and tax benefits, don't forget to assess your short-term and long-term financial goals and align them with your tax-saving options to get the best out of them.
Let us know in the comment section your methods to save taxes.
other blogs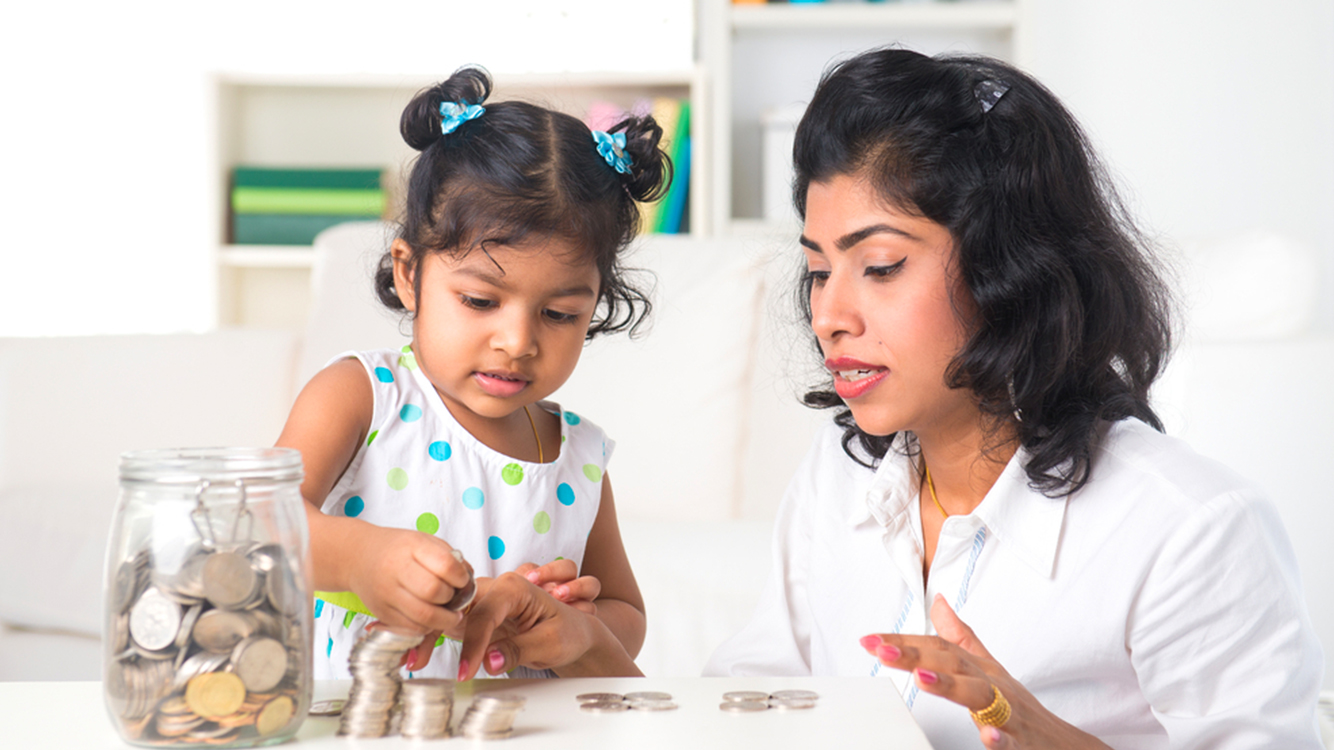 Smart Lifestyle Smart Money
March 16, 2023
Improving your relationship with money
Money is an integral aspect of our lives, but many struggle to maintain a healthy relationship with it. Whether it's overspending, debt, or simply feeling like there's never enough, a person's relationship with money can cause stress and anxiety. However, there are ways to improve your relationship with money and create a more positive financial […]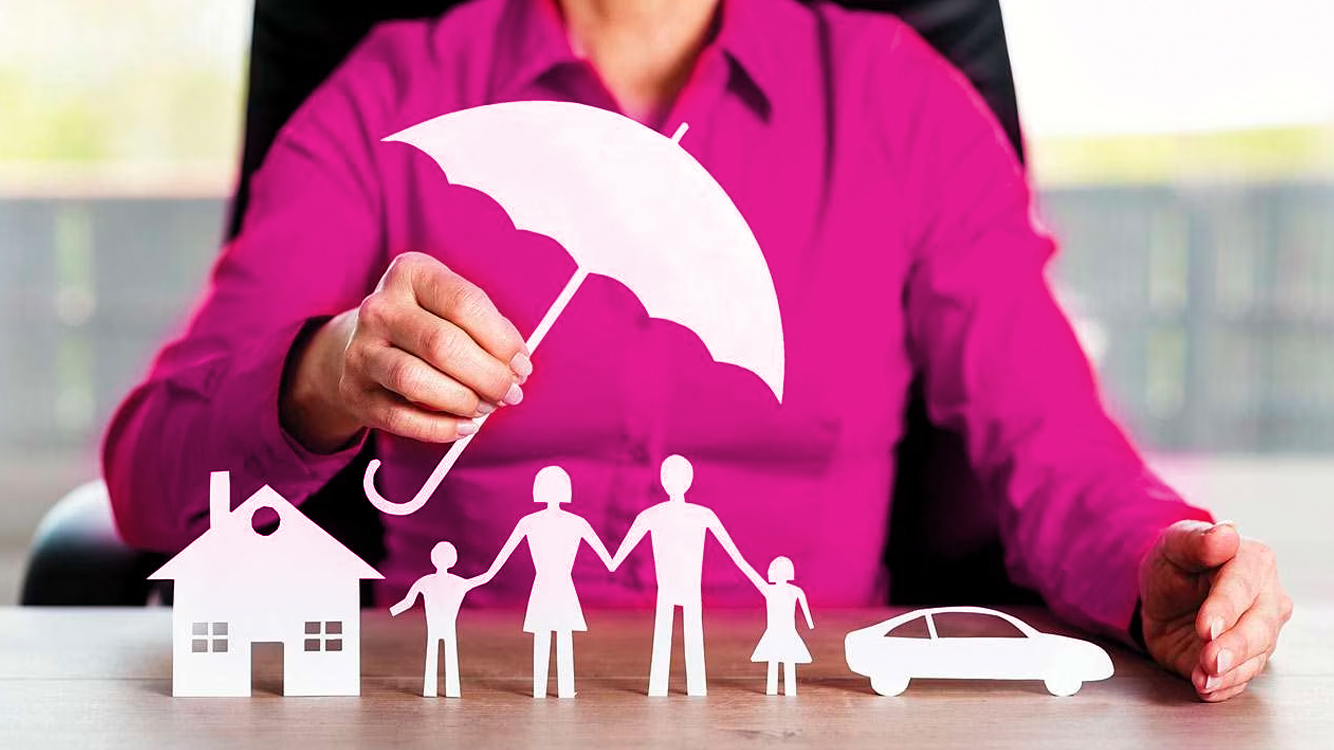 Smart Lifestyle Smart Money
March 15, 2023
Why is Term Insurance important for Women?
Do you also think Term Insurance is not essential for women? Then, let's break this myth and understand why life insurance is important for women. As per LXME's Women and Money Power Report 2022, 58% of women have no insurance (life or health) in their name😨. Shocking right? Let's bridge this huge gap together!! Why […]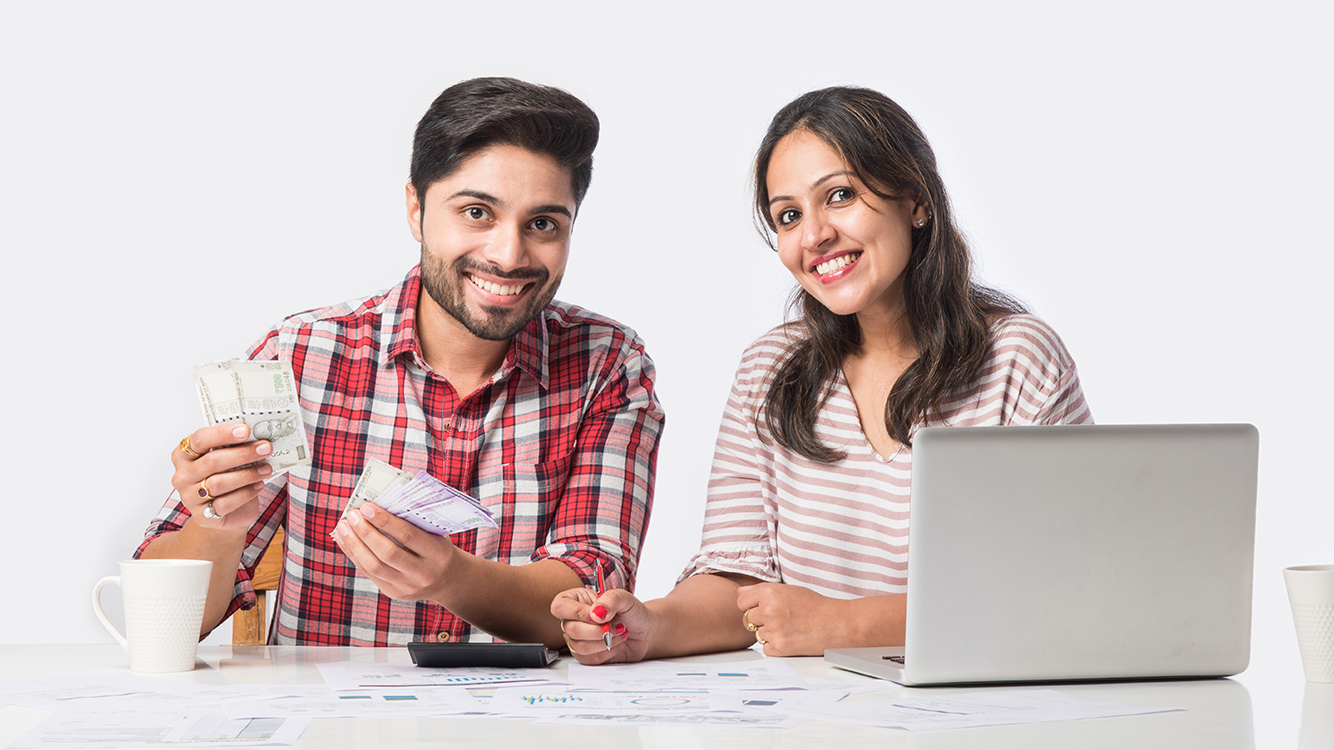 Smart Career Smart Money
March 11, 2023
Simple Money-Making Ideas for Stay-At-Home Parents
Being a stay-at-home mom/dad, your work is technically never done. It's not an easy job and certainly not lucrative because warm hugs and your child's cute drawing won't pay the bills. But thankfully with the advent of technology and possibly the only silver lining of a pandemic, work-from-home jobs are more common than ever. Here […]