Want to buy a dream home, go on vacation, or plan for a luxurious retirement?
If yes, you need to start investing for your future goals from your early 20s whether you are in college or 1st job. Investing is a simple art if done correctly!
Here are 5 hacks to kick start your Investment Journey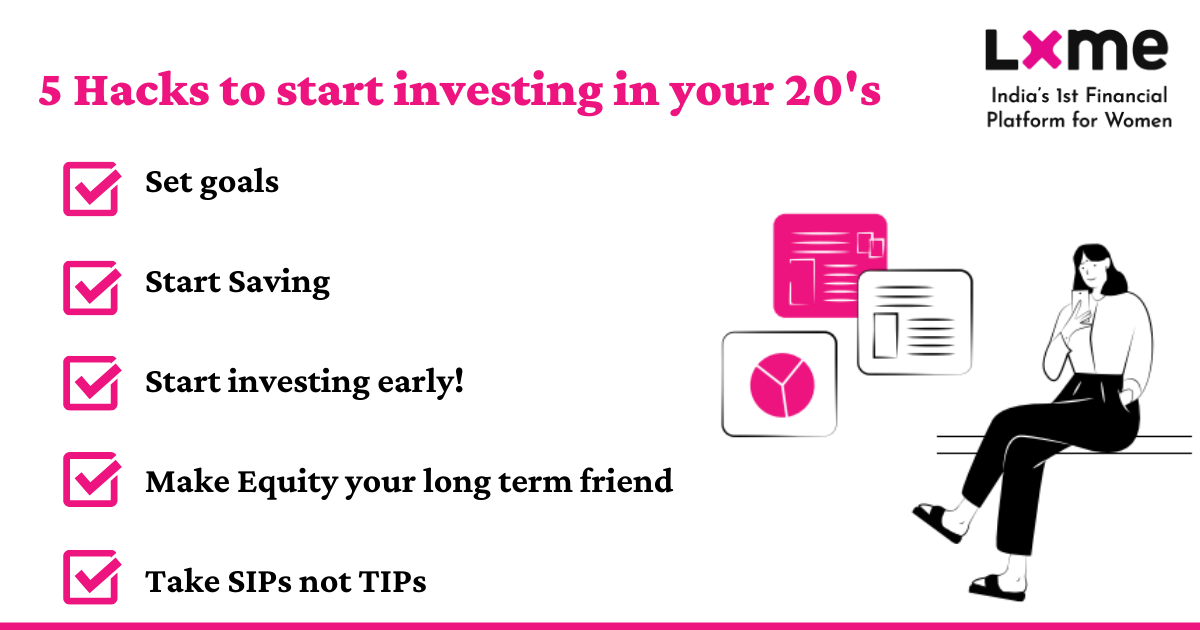 1. Set goals
No investment is complete without your money goals for yourself. Invest in them for a certain period and you would have achieved a dream. You can divide your money goals as per timelines. For example:-
Ultra-Short Term Goals – Goals that are needed to be fulfilled within a year. For Example, Builiding emergency fund.
Short-Term Goals – Goals that you want to achieve in a 1 to 3 years time period. For Example, planning for vacation.
Long-Term Goals – Goals that need to be fulfilled after 3 years can be considered long-term goals. For Example, planning for retirement.
You can also make use of a calculator to calculate the amount to be invested to achieve your goals.
2. Start Saving
Saving money regularly is important to inculcate the habit of saving. As we spend every day, we should save every day to fulfill our future needs. Savings precedes investing. Investing helps you to grow your money and fulfill your goals.
You can also take part in The Savings and Investment Challenge, You just need to follow 3 steps
Step 1: Select one basket ( the target amount) that you'd like to save in a year: 25k, 50k, 100k
Step 2: Save daily as per the numbers being announced here on the App and transfer it to your Savings Bank Account.
Step 3: Invest Monthly and Open your LXME Investment Account. At the end of each month, you'll be left with a fixed amount of money. With that, you can start a SIP and grow your money!
3. Start investing early!
Start investing now, even if it's a small amount because long-term investments allow us to take advantage of compounding, which works wonders over time and helps you to grow your money. You can start investing with just ₹100 every month for your future as per your goals. Checkout LXME's ₹100 Equity Fund and ₹100 Debt Fund from here: MyMoneyTab.
4. Make Equity your long term friend
Equity investments like Equity Mutual Fund act as a value creator in your portfolio. It helps you to grow your money and beat inflation in long term. For example, if inflation is 8% and you are earning 15% returns from your Equity Fund, then you are not just beating inflation but also earning a good return.
*Returns may change on the basis of market conditions.
5. Take SIPs not TIPs
Take SIP (Systematic Investment Plan) and not TIPs. SIP makes you disciplined towards regular investing. Regular investing reduces the market timing risk, so you don't need to time the market every time as you invest in all time frames. Whereas when you take trading TIPs, there is a high risk as around 90% of traders lose their money while trading.
Start investing with these simple yet powerful hacks and achieve your dreams. Tell us in the comments section below which of the hacks do you intend to use first?
other blogs