Investing is essential to achieve your goals. It is the only way to make your future better.
Dreaming of buying a car in the next 2 years or a house in the next 5 years? Wanting to have your dream wedding or starting that side hustle? Dreaming of your business or your retirement?
We often ask ourselves when it would be the best time to start investing. Should we wait for that increment or often think, "baad mein dekh lenge." Well, the best time to start investing is NOW! (Yes, right NOW!). Investing early can make an enormous difference in your financial journey.  
This blog will guide you on how to turn your dreams into reality!
Let us take a look at an example: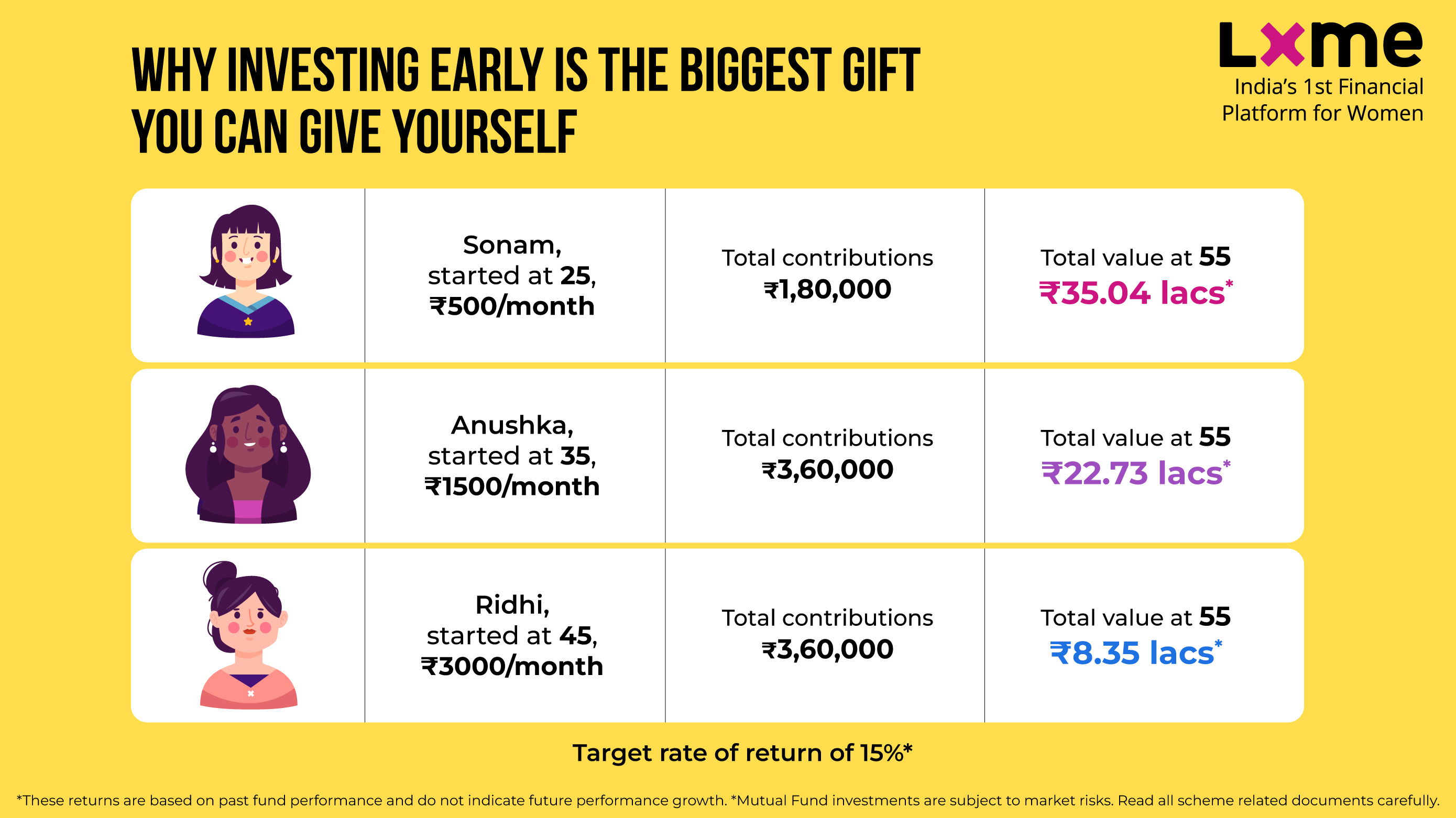 The ultimate goal is to not how much you invest but how smartly you invest. In the example above, Sonam started investing with just Rs. 500/- a month and ended up with a corpus of Rs. 35.04 lacs compared to Ridhi, who began investing at the age of 45 with Rs. 3000/- a month. Ridhi ended up with a corpus of Rs. 8.35 lacs.
Here are 5 things you should start investing for: 
1. Compounding – Time plays a critical role in investing your money! It is not how much you save and invest but for how long you invest. The secret is the 'power of compounding.' Compounding can turn a small sum of money into comfortable nests. Hence, it is essential to start investing early, even if you start with a low amount. You can start investing with as low as Rs.100/- in LXME Rs 100/- Debt and Equity Plan.
2. Security – It is essential to save for 'rainy days.' This sum of money is a safety net which is helpful during any unplanned expenses or unforeseen circumstances. It could be home/car repairs, medical emergencies or job layoffs. It creates financial security for yourself as well as your family in situations. Generally, an Emergency fund should have 6-8 months' worth of expenses. However, it is always beneficial to keep more. Instead of letting the money sit in your savings bank account, it is better to invest it.
3. Retirement – Do you dream of early retirement and living comfortably with complete financial freedom? Your dreams will turn into reality if you start working for them! Check out LXME's Retirement Calculator to understand how much corpus you need when you retire!
4. Child Education – Education costs have gone bizarre! Instead of just building castles in the air, it is time to start planning and investing in your child's education. Start planning early so you don't have to worry about it when the time comes. It will help you plan your finances accordingly. Check out LXME's Child Education Calculator and Portfolio. 
5. Goals –  Now think about the other goals you are saving for! Do you want to travel the world, buy your own home, buy that designer bag or set up a business? To fulfil your goals, you will have to understand how much money you need for each of them and when you want to achieve them! By using the LXME's Goal Calculator, you will be able to know how much you need to invest!
other blogs