Picture this: You're scrolling through your favourite website, eyes locked on that gorgeous Saree. It's love at first sight.
Just when you thought it couldn't get any better, there it is – your long awaited lipstick makes an appearance. Your excitement surges, you get all geared up for some carefree spending!!
Yet, a thought creeps in – will this splurge affect your budget 🤔
But wait! What if there's a card that not only helps you to keep your wallet in check but also showers you with exclusive offers and discounts while keeping your spending within bounds?
If you think such a card only exists in your dreams, think again!
The LXME Dream Card is here! It's the unexpected burst of colour that'll redefine your spending habits!
Let's dive into the world of the LXME Dream Card, where dreams do come true, one swipe at a time!🌟💳
The LXME Dream Card is your go-to online prepaid card that combines the ease of transactions with the peace of mind of responsible spending. This card is all about convenience, offering you a hassle-free way to manage your money, a straightforward way to make online payments, unlock exclusive deals, and control your expenses effortlessly!
It's your trusted companion for modern-day financial management✨
Who is eligible to apply for the LXME Dream Card?
The LXME Dream Card is available to women above 18 years of age and only 1 card can be issued per unique customer
What are the Features of LXME Dream Card?
1. Virtual Card, Real Benefits:
You can access all the benefits with just a few taps on your smartphone
We'll be launching physical cards soon!. Stay tuned!
2. Convenience at your fingertips:
Recharge, check the balance, and make transactions from the comfort of your home or on the go.
3. Minimum and Maximum Recharge:
With a minimum recharge requirement of just ₹10, it's accessible to all and offers a maximum monthly recharge limit of ₹10,000, allowing you to tailor your spending to your financial capacity.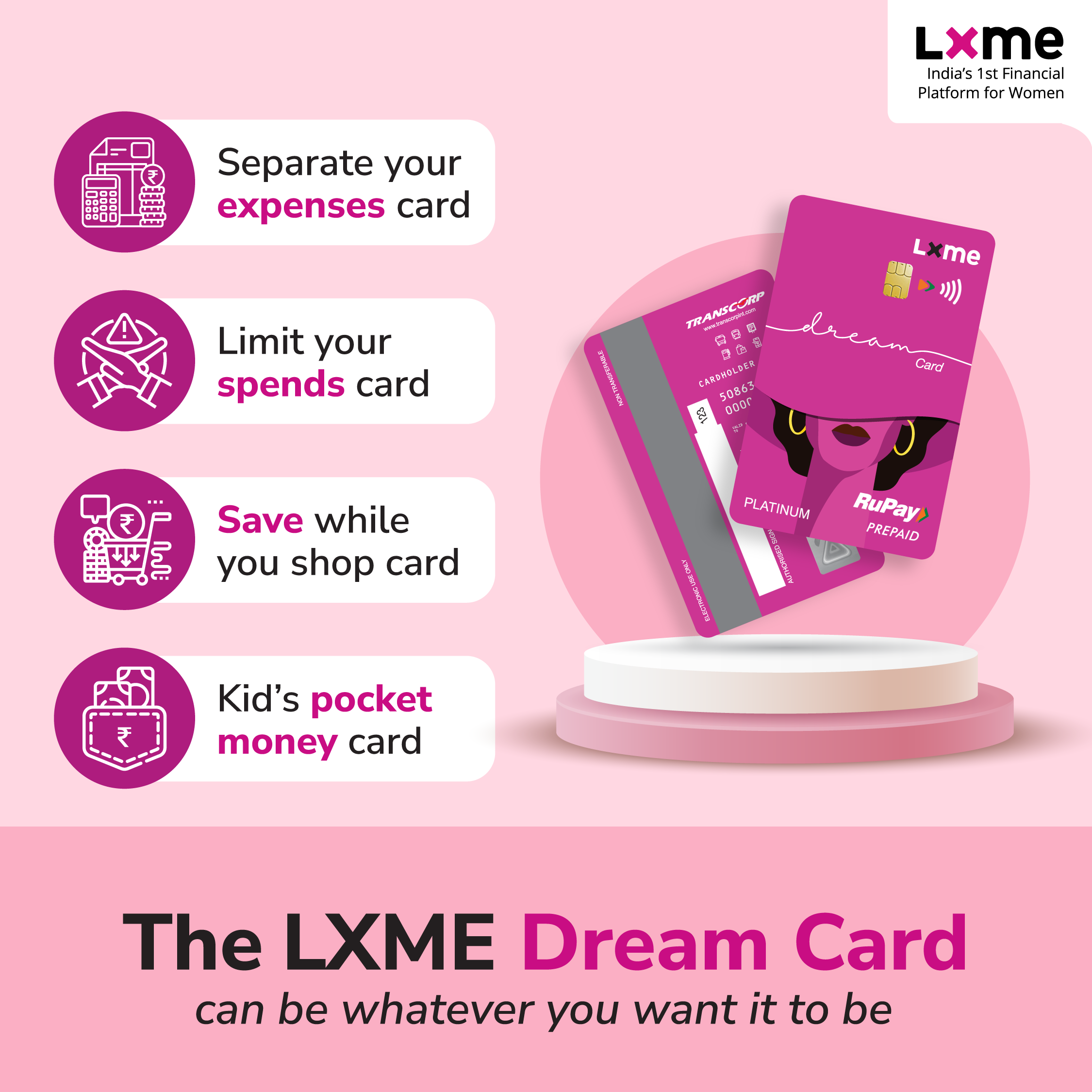 What are the Benefits of the LXME Dream Card?
1. Spending within limits:
Say goodbye to the stress of overspending or losing track of your expenses. This online prepaid card empowers you to set limits and stay within them.
2. Exclusive shopping offers:
You can unlock a world of exclusive offers and discounts at your favourite stores/ shopping sites. Enjoy special deals and rewards every time you shop.
3. Pocket money card for the kids:
Parents can load the LXME Dream Card with their kids' allowance and teach them to manage their finances within the budget. Also parents can keep a track of where the money is going.
4. Easy Recharge:
Topping up your LXME Dream Card is a breeze. You can recharge it online, making it accessible wherever you are.
5. Security:
The LXME Dream Card employs encryption and security measures to ensure that your money and personal information are safe and secure. Your security is our top priority.
How do you apply for the LXME Dream Card?
Visit the LXME app and click on the "Dream Card" option on the Home Page.
Enter your Name, Email id and Gender and proceed to the next step.
Provide your PAN Card number and Date of Birth in the next step.
Add your address details correctly and proceed.
Verify your Phone number by entering the OTP.
Once done, recharge your card with the desired amount, and Voila! It's ready to use.
Apply now for the LXME Dream Card, and seize control of your spending while relishing exclusive offers!!!
In conclusion, the LXME Dream Card is not just a normal tool, it's your ticket to a more organised and rewarding spending experience.
With features tailored to your needs and benefits that make every purchase a delight, this online prepaid card is ready to turn your dreams into reality.
It can be your separate expenses card or smart limited spending card or Wait! Wait! What about a Save while you shop card with all those amazing deals and offers. It can also be your kid's pocket money card! It's a women-centric card with a range of things to offer!
Just like we say – Card ek, Fayde Anek!🎉
The LXME Dream card can be whatever you want it to be!
So, why wait?
Get your LXME Dream Card today and embark on a journey of financial empowerment and savvy spending.
Your dreams are waiting!
---
FAQ's – Frequently Asked Questions
Q1: How can I check my balance and transaction history? 
Ans: You can easily check your balance and transaction history through the LXME app. Click on the DREAM CARD option on the home page to access this information conveniently.
Q2: Can I withdraw money from my Dream Card once it's loaded? 
Ans: No, you cannot withdraw money from your LXME Dream Card. The funds loaded onto the card are meant for spending, not cash withdrawals. 
Q3: Is it available for international use? 
Ans: As of now, the LXME Dream Card is primarily designed for domestic use. While it may not work for international transactions, it's perfect for your expenses within the country.
Q4: What is online prepaid card?
Ans: An online prepaid card is a payment card that can be used for transactions online or in-person, and can be reloaded with funds as needed. LXME offers an online prepaid card that provides a secure and convenient way to manage expenses.
Here are some features of the LXME prepaid card:
– Hassle-free transactions and secure payments.
– Budgeting tools to help manage expenses effortlessly.
– Cashback rewards and exclusive offers.
– Designed specifically for women.
Share this blog with your family and friends if you find it insightful!!
other blogs