Introduction:
Your child's wedding is a momentous occasion, and as a mother, you want to ensure it's a beautiful and memorable event. A significant part of Indian weddings is buying gold jewelry as a gift for their children. It's considered as an essential cultural and traditional aspect by many.
You can plan well for your child's wedding by first investing smartly in gold via Gold Mutual Fund/SGB and then purchasing jewelry when required. This way you can ensure that you're growing your money by taking smart steps and fulfilling your goals of providing the best, which will serve as a cherished wedding gift for your child.
Understanding the Significance of Gold:
Gold has been considered a valuable asset for centuries across India. It holds a unique status due to its rarity, durability, and its ability to maintain value over time. In our Indian culture, gifting gold during weddings is symbolic and holds deep-rooted cultural significance.
Therefore, buying gold jewelry for your child's wedding needs smart planning.
Step 1: Assess Your Financial Situation
Before making any investment decision, understand your goal and based on that you can move towards investing.
Ideally, start planning and investing for your 3 critical goals and then other goals. You can start investing smartly in Gold through Gold Mutual Funds and can later use the money to buy jewellery at the time of your child's wedding.
Step 2: Establish a Budget
Once you have a clear picture of your finances, establish a budget specifically for purchasing gold jewelry. Consider factors like the type of jewelry you want to buy, the quantity, and the current market prices. Your budget should be realistic and achievable based on your income and savings.
Step 3: Invest Smartly
The traditional way of buying Gold includes purchasing jewelry, coins, bars or joining Gold Savings Schemes comes with certain risks and charges. You can always invest smartly first via Gold Mutual funds and Sovereign Gold Bonds, and make purchase when required. This way, you save up on a lot of costs and your money can grow more when you make smart choices. Investments offer the magic of compounding, allowing your money to grow exponentially over time.
However, the traditional way of buying gold brings in risk of theft, you might also need to pay for secure storage elsewhere, for example bank lockers e.t.c. Additionally, there is 3% GST , making and design charges, storage(₹3k/year average locker charges) and insurance charges that increases your overall cost and you get less gold on the money paid.
Let's look at a cost comparison between Gold Jewelry and Gold Mutual Fund-
As we can see overall approx returns given by Gold Jewelry is ₹1.50 lakh whereas Gold Mutual Fund gives an overall return of ₹2.25 lakh approx.
How can LXME help you kickstart your investments in Gold?
In LXME ₹100 Gold fund you can start investing with just ₹100 and it aims a targeted return of 8.3%* p.a. This plan is well-researched and curated by experts.
Step 6: Plan your most awaited Purchase
At the time of the wedding, plan the purchase of gold jewelry by utilizing your investments in gold mutual fund/SGB and other investment instruments. You can purchase gold jewelry of your child's choice on their special day.
Conclusion
Buying gold jewelry for your child's wedding is a significant financial decision intertwined with cultural and emotional values. By smartly planning for the wedding, you can ensure that you can afford the best for this important event.
With a well-thought-out plan and patience, you can fulfill this cherished tradition.
Diversify your investments in different asset classes like equity, debt and gold. Diversification helps spread risk and optimize potential returns. Always keep track of your plan. Yearly/half-yearly reviews could be beneficial for keeping track of your progress with regard to your goals.
Share this blog with your family and friends if you find it insightful!!
Download the LXME app for more such content!
1. Is buying gold jewelry a good investment?
No, buying physical gold is a luxury and not investment. It comes with certain risks and charges. There is 3% GST , making and design charges, storage and insurance charges that can increase the overall cost and these additional costs are impossible to recover while selling any gold jewelry. That is why considering gold jewelry as an investment is a big NO. One can invest in gold the smart way through Sovereign Gold Bonds, and Gold Mutual Funds, etc.
2. How can I invest in Gold Mutual Funds?
Gold Mutual Funds offer two modes of investment: Systematic Investment Plan (SIP) and lump sum. SIP allows you to invest regular, smaller amounts over time, while lump sum involves a one-time investment. Both options provide flexibility to suit your investment preferences and financial situation.
3. What is the minimum investment required in a Gold Mutual Fund?
You can start your investment in Gold Mutual Fund with just ₹100.
other blogs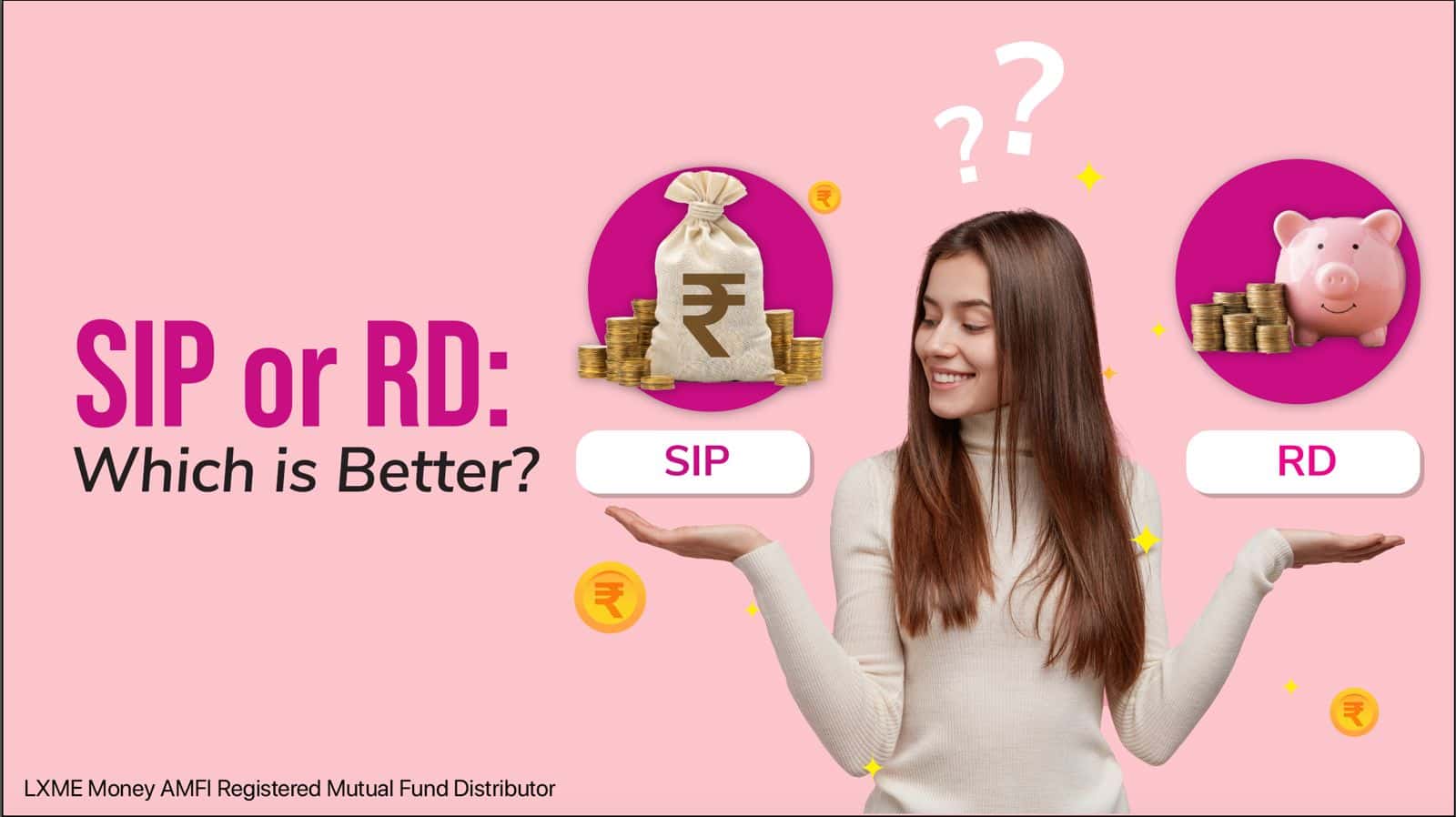 Smart Money
November 23, 2023
Is SIP better than RD?
In this inflation-bearing world just investing in Recurring Deposits (RD), Fixed Deposits(FD), Physical Gold, Savings Deposits, etc. is not enough as their returns cannot beatinflation. Besides, women are very conservative investors and prefer RD over mutual funds,however, now its time to upgrade ourselves. So, what should one do to get inflation-beating returns and get the … Is SIP better than RD?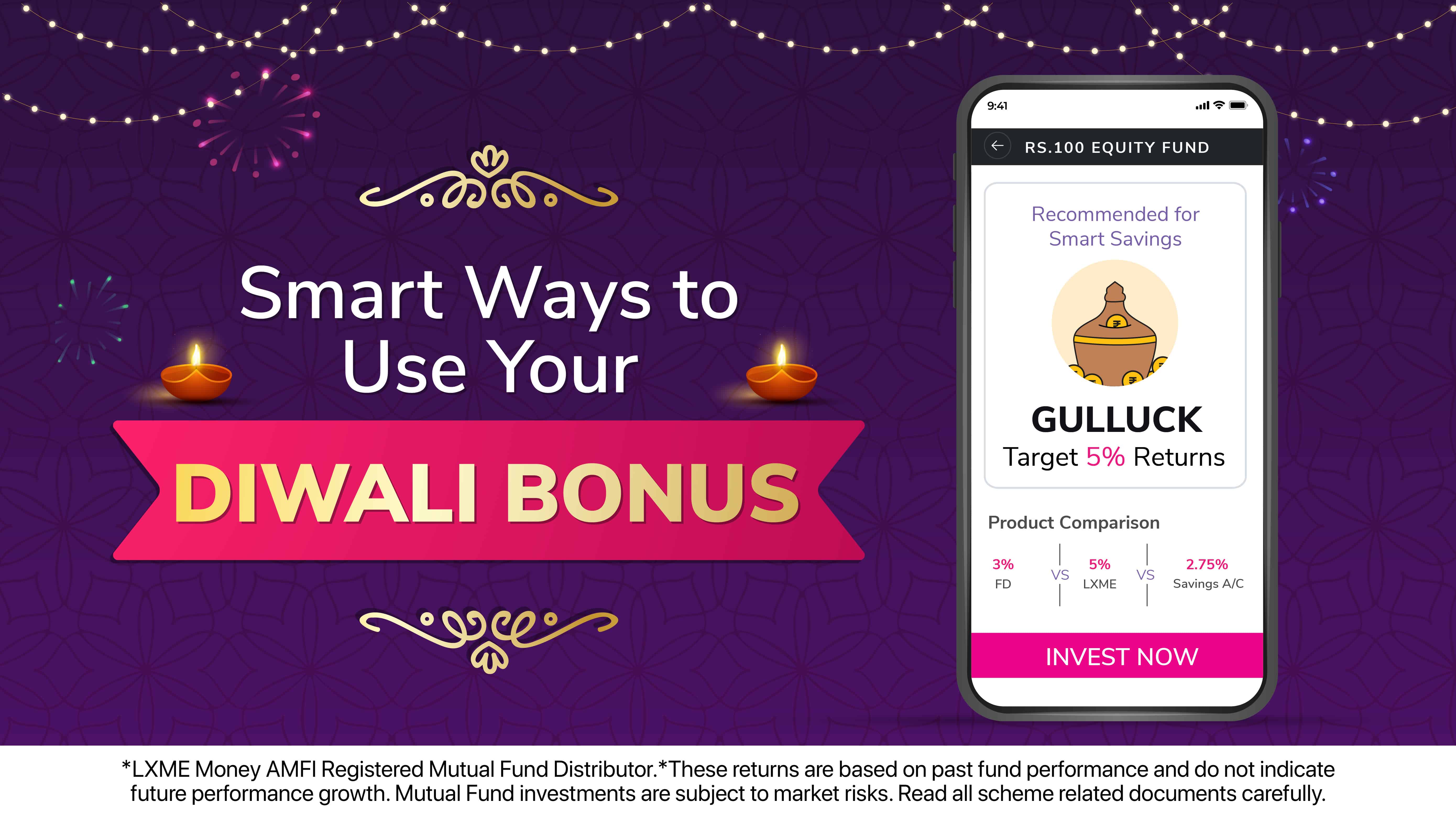 Smart Career Smart Money
SMART WAYS TO USE YOUR DIWALI BONUS
It's always a great surprise to receive that well-deserved bonus during Diwali, after all, Lakshmi ko kaun mana karta hai? But spending that bonus is the trick most of us struggle with. Don't worry, LXME will teach you how to spend bonus money and how to invest bonus money. Let's follow the 50, 40, 10 … SMART WAYS TO USE YOUR DIWALI BONUS