Dhanteras, the festival of wealth and prosperity, is a special time for many in India. Gold has been a symbol of prosperity and wealth in our culture for centuries, and Dhanteras is an auspicious time to invest in it. In this blog, we will explore the importance of investing in gold during Dhanteras and how to invest in precious metal gold smartly.
Importance of Investing in Gold this Dhanteras
Dhanteras marks the beginning of Diwali festival. The word "Dhan" means Wealth/Prosperity and on Dhanteras people worship Goddess Lakshmi, the Goddess of wealth and Prosperity to seek her blessings. It is considered the most auspicious day to invest in yellow metal "gold". For centuries, gold has held a special place in Indian culture as a symbol of wealth, protection, and blessings.
Understanding why Gold is important for your Investments
Before deciding how much gold to include in your investment plan, it's essential to know why gold matters. Gold is like a financial safety net, protecting your investments from rising prices and economic uncertainties. It's also a smart way to diversify your investments and maintain their value over time.
What is Muhurat Investing?
Muhurat Investing is similar to Muhurat Trading. The term "Muhurat" refers to an auspicious moment in Hindu astrology, and it is believed that trading during this time brings prosperity and good fortune for the coming year. It is a special tradition held on the day of Diwali, usually in the evening, for 2023, NSE has announced Muhurat from 6:00 PM to 7:15 PM
The Traditional Way of Buying Gold
Physical Gold/ Gold Jewellery is one of Indian Women's favorite ways of purchasing gold. But now, things are changing, and there are smart ways to invest in gold that are much easier, hassle-free, and a pure form of investment.
The traditional methods of buying gold include purchasing jewellery, coins, bars, or joining Gold Savings Schemes. However, these methods come with certain risks and charges.
For example – there's a fear of theft when you have physical gold at home, and you might need to pay for secure storage elsewhere for example bank lockers, etc. Additionally, there is a 3% GST, making and design charges, storage, and insurance charges that can increase the overall cost, and these additional costs are impossible to recover while selling any gold jewellery.
That is why considering gold jewellery as an investment is a big NO and shifting to the smart ways of investing in gold is a wise move and will help you grow your wealth more effectively.
Now, let's see the other options where you can Invest in Gold smartly –
Gold Mutual Funds – Gold Mutual Funds are actively managed mutual funds which invest in Gold Exchange Traded Funds. It is a great way to hedge your portfolio against inflation. You can check out the LXME ₹100 Gold fund where you can start investing with just ₹100 and it aims a targeted return of 8.3%* p.a. This plan is well researched and curated by experts. Additionally, mutual funds are regulated by AMFI (Association of Mutual Funds in India).
Sovereign Gold Bonds – Sovereign Gold Bonds(SGBs) are issued by RBI on behalf of the Government of India, allocated in units where each unit is equivalent to 1 gram of gold. You also earn interest income of 2.5%p.a over and above capital appreciation.
One can invest in SGB through LXME. Sign up on the App and stay tuned for all the updates on SGB.
Gold ETFs – A Gold ETF is an exchange-traded fund (ETF) that aims to track the domestic physical gold price. They are passive investment instruments that are based on gold prices and invest in gold bullion. Having a demat account is mandatory to park your money in Gold ETFs.-
(Note – There are also Digital Gold Plans available in the market where you can buy gold for as little as ₹1/-, but remember Digital Gold Plan does not come under the purview of any financial regulator therefore, one needs to select the platform carefully)
How much Gold does one need in their portfolio?
Ideally, one can allocate 5-10% of their portfolio towards Gold Investments. However, this can always be customized based on your goals, risk appetite, etc. This range allows you to optimize your portfolio, providing exposure to gold's benefits.
Conclusion:
This Dhanteras, consider not just buying gold as jewelry but also explore these smart investment options to make your money work for you. As you celebrate the festival of wealth, take a step toward securing your financial future. Happy Dhanteras, and may your investments shine as bright as the gold you acquire!
FAQs
Is it a good idea to put money in gold?
Yes, investing in gold can be a good idea. Gold acts as a hedge against inflation, protecting your investments from rising prices and economic uncertainties. Allocating your assets smartly against different asset classes like equity, debt, and gold can help you manage your risks. However, the decision should align with your financial goals and strategy, so it's wise to consult a financial advisor.
Why is Dhanteras considered a special time to invest in precious metal "gold"?
Dhanteras marks the beginning of Diwali and is dedicated to the Goddess of wealth, Goddess Lakshmi. It's believed to be the most auspicious day to put money in gold, as gold symbolizes prosperity and blessings in Indian culture.
Why is it lucky to buy gold on Dhanteras?
Gold is associated with the goddess Lakshmi and buying gold during Dhanteras or Diwali makes her happy. In Indian culture, it is believed that if the goddess Lakshmi is happy then she brings lots of abundance, prosperity, blessings, and happiness to life. Moreover, gold is considered as best hedge against inflation.
Comment "Need Assistance" if you want to start investing in the LXME ₹100 Gold Fund!
other blogs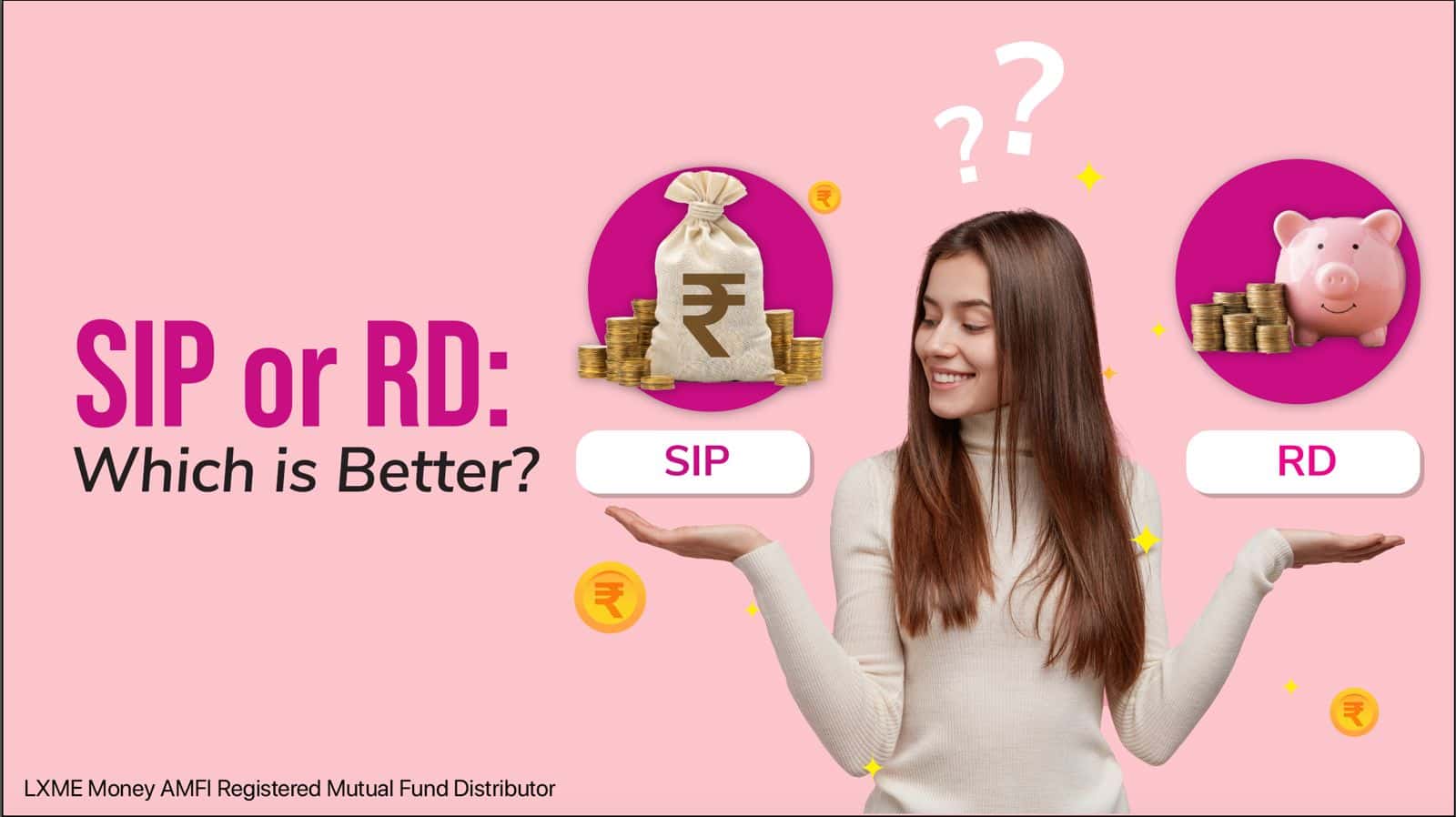 Smart Money
November 23, 2023
Is SIP better than RD?
In this inflation-bearing world just investing in Recurring Deposits (RD), Fixed Deposits(FD), Physical Gold, Savings Deposits, etc. is not enough as their returns cannot beatinflation. Besides, women are very conservative investors and prefer RD over mutual funds,however, now its time to upgrade ourselves. So, what should one do to get inflation-beating returns and get the … Is SIP better than RD?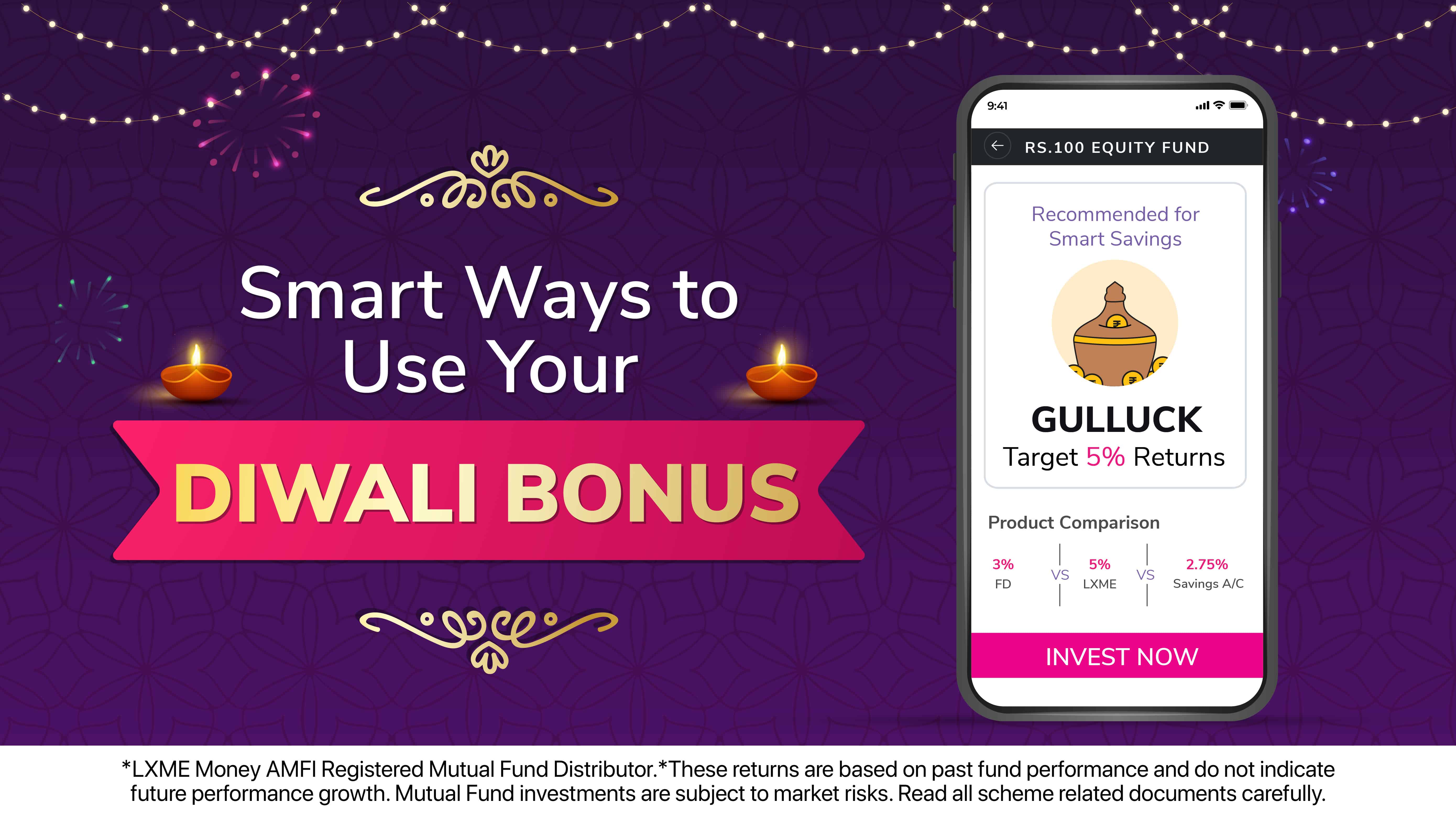 Smart Career Smart Money
SMART WAYS TO USE YOUR DIWALI BONUS
It's always a great surprise to receive that well-deserved bonus during Diwali, after all, Lakshmi ko kaun mana karta hai? But spending that bonus is the trick most of us struggle with. Don't worry, LXME will teach you how to spend bonus money and how to invest bonus money. Let's follow the 50, 40, 10 … SMART WAYS TO USE YOUR DIWALI BONUS