Radhika: I am facing financial stress as there is a sudden unfortunate medical emergency.
Apurva: Didn't you have any emergency funds for such a crisis?
Radhika: No! What do you mean by the emergency fund? You know what, I had to dig out money from my long-term investments. I am worried about how to tackle future contingencies if any occur.
Apurva: Radhika, an Emergency fund is one of the critical goals one should plan for. You need to plan for it first and then plan your other investment goals.
So, let's understand the importance of an Emergency Fund and how to build Emergency Fund with Radhika.
What are Emergency Funds?
An Emergency Fund is money you set aside for when an emergency upends your world and you need money to do what needs to be done.
An Emergency Fund is needed to cover your emergencies and safeguard yourself and your dependents against these contingencies.
Why create an Emergency Fund?
As the name suggests, an Emergency Fund is needed to cover your crises and there can be numerous cases of emergencies. It can come anytime and of any amount. To safeguard yourself and your dependents against these contingencies, an Emergency Fund is a must. We should always anticipate our losses, not profit!
How to Build Emergency Fund?
> To manage any sudden or unexpected expenses you should create an Emergency Fund so that in the future you don't have to dent your savings or investments.
> While coming up with a budget for your emergency savings, you should think about how much money you need to live comfortably every month.
> Map out what this looks like by listing out your expenses versus your income.
Following is the process of creating an Emergency Fund
An Emergency Fund is equivalent to 6-8 months of your monthly expenses and it is the sum of money that you put aside for any contingencies falling upon you.
If you have a variable income or if your income is not fixed, then you should build a larger Emergency Fund.
Set aside that amount in an instrument that allows your money to grow, while providing high liquidity to ensure you can access it during times of distress!
What to do with Emergency Fund? An Emergency Fund should not be confused with regular savings. This fund can be utilized against unplanned trips to the hospital, job loss, pay cuts, sudden repairs needed around the home, or fixing your car.
Create your Emergency Fund first. It should be prepared before you start saving and investing for wealth creation
Review every year to ensure your fund is in sync with your expenses and lifestyle. It is a life-long fund, a year marked.
Where do you create an Emergency Fund?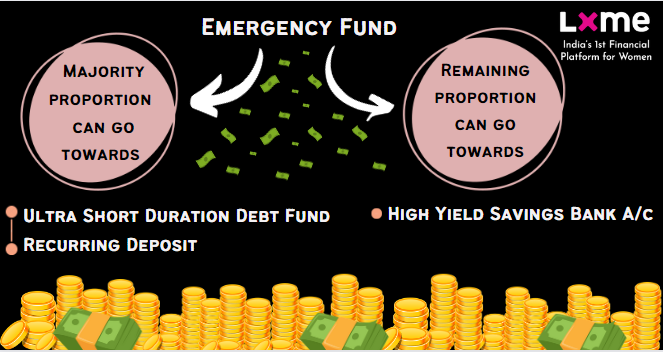 Ultra-Short Term Mutual Funds
> Ultra-short duration funds are fixed income mutual fund schemes that invest in debt and money market securities and are recommended for 1-11 months.
> You can start investing in this fund with LXME.
> LXME Ultra Short Term Plan portfolio is a mix of debt & hybrid funds that are curated and well-researched by experts
> Targeted returns: 6%p.a.
> Best suited for 1 to 11 months
Click here to create your Emergency Fund today!
Recurring Deposit
A Recurring Deposit (RD), is a unique term deposit that is offered by Indian Banks. It is an investment tool that allows people to make regular deposits and earn decent returns on the investment.
> Features:
– Can be opened at bank or post office
– Maturity period of 6 months to 10 years
– Allow regular payment of lower value at intervals
– Premature withdrawal allowed, with penalty
> Minimum Investment- ₹10 (varies from plan to plan)
> Average returns: 4-6% p.a.
> Taxability: Interest earned on RD is fully taxable
High Yield Saving Account
> Features:
– Offered by some banks
– No maturity period
> Average returns: 5-7% p.a. (varies from bank to bank)
> Taxability: Upto ₹10,000 deduction available under Section 80TTA. Any interest over and above that is fully taxable.
How to redeem Emergency Fund?
> Emergency Fund should have high liquidity so that you can withdraw the amount whenever required.
> You can withdraw the amount from an ultra short-term fund and high-yield savings account whenever required without any penalty.
> However, You can withdraw the amount from RD only at maturity, if you want to withdraw the amount before maturity then premature withdrawal is allowed with a penalty.
So, with Radhika we came to know while you build your investment portfolio based on your financial goals, an Emergency Fund should be among your first investment goals. So, what have we learned today? You should begin building an Emergency Fund, as soon as you start earning.
If you are yet to begin your investment journey, and still wondering where to begin, then start your journey with LXME.
"By failing to prepare, you are preparing to fail"
– Benjamin Franklin
Be prepared for any rainy day!
other blogs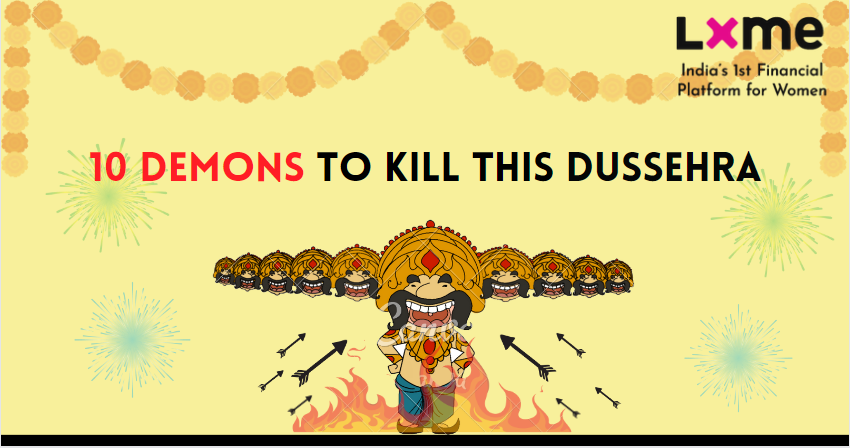 Smart Money
October 5, 2022
10 Demons To Kill This Dussehra
Dusshera is one of the major Hindu festivals that also symbolizes the end of Navratri. The festival is celebrated as the victory of Lord Rama over Ravana. It also marks the triumph of Goddess Durga over the demon Mahishasura. So this festival symbolizes killing demons or destroying negative and bad habits we have in our […]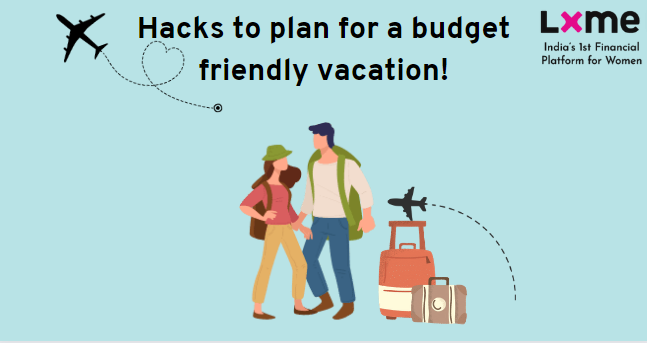 Smart Money
September 27, 2022
Hacks to plan for a budget-friendly vacation!
In today's world, everyone's life is full of adventure, so there needs to be some relaxation along with fun in life. So, in order to release all day-to-day stress, one needs a break from their daily routine to refresh our mind. One such time is when Raj and Simran decided they needed a break from […]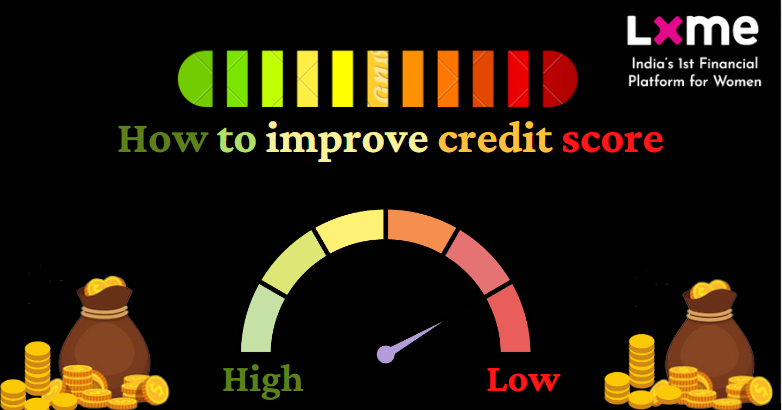 Smart Money
August 30, 2022
What Is Credit Score & How To Improve It
Drishti, Senior Engineer, had applied for a home loan but her application got rejected due to low credit score. At the same time, her colleague Ritu also applied for a home loan, and her application was approved and the loan was sanctioned as she had a good credit score. Drishti was curious to know about […]