Looking for the best investment options to secure your girl child's future? At LXME, we understand the importance of financial planning for your child's well-being. Explore a range of investment choices tailored to ensure a bright and prosperous future for your girl child. Discover the best investment for a girl child and pave the way for her financial success.
In the past, societal rules held back girls' dreams, prevented them from even attending school and achieving their maximum potential. However, things have changed, and as mothers, it's our responsibility to encourage and support our daughters.
Let's listen to what Radhika has to say as a mother of a 5 year old-
"I thought saving some gold jewelry and cash for my little one would be the best investment decision for her future. But luckily got out of that bubble when I came across the LXME platform and attended their Financial Fitness Bootcamp. I gained so many insights when it came to money management and realized I was doing it wrong all this time.
But it's always better late than never. Understood the crux of investing and now have started with my Real Investment Journey to secure my princess's future"
To sum up, Radhika learnt about the different Investment Plans available for her daughter and came to know how she can effectively plan for the same.
Let's dive into the details of what you require to secure your child's future.
Firstly let's see what are the Investment options one can consider while investing for their daughters –
LXME's Child Education Plan – LXME's Child Education Plan is a carefully crafted mix of 70% Equity and 30 % Debt Mutual Funds, which is best suited for your long-term goals, with an impressive target of 14% p.a* returns. This portfolio is well-researched, diversified, and curated by experts. Take the first step towards securing their bright future today!
Sukanya Samriddhi Yojana – Sukanya Samriddhi Yojana (SSY) is a government scheme available for Indian girls below 10 years of age. Parents or legal guardians can open an account on behalf of the girl child. Maturity period is 21 years from the date of account opening. It offers a fixed interest rate, currently at 8% p.a., and it's revised every quarter by the government.
Mahila Samman Savings Certificate – Mahila Samman Savings Certificate is a one-time small savings scheme for women and girls announced in Budget 2023. It will be available for 2 years i.e from April 2023 – March 2025. It offers a fixed interest rate of 7.5% p.a. and allows a minimum deposit of one thousand rupees and in multiples of one hundred rupees.
Public Provident Fund – PPF is a government-backed savings scheme open to everyone, parents can open an account on behalf of their child. It offers a fixed interest rate, currently at 7.1% p.a., and it's revised every quarter by the government. PPF has a maturity period of 15 years, suitable for long-term savings.
Fixed Deposits, Recurring Deposits – Both FDs and RDs are fixed-income products available at major banks and financial institutions. These are low-risk investment options that offer fixed returns ranging from 3-8% based on the tenure and varying among different banks. You can consider these options for your short-term goals.
Gold Mutual Funds – Gold Mutual Funds are actively managed mutual funds which invest in Gold Exchange Traded Funds. It is a great way to hedge your portfolio against inflation. You can check out the LXME ₹100 Gold fund which aims a targeted return of 8.3%* p.a.
Sovereign Gold Bonds – Sovereign Gold Bonds(SGBs) are issued by RBI on behalf of the Government of India, allocated in units where each unit is equivalent to 1 gram of gold. Capital gains arising from SGB's are exempt from the Capital gains tax if the bond is held till maturity of 8. You also earn interest income of 2.5%p.a over and above capital appreciation.
Comparison between Sukanya Samriddhi Yojana and LXME's Child Education Plan –
Why should you choose LXME's Child Education Plan?
As you can see, with SSY you can generate approx ₹26.93 lakh but with LXME you can target a corpus of ₹88.63 lakhs*(approx).
The Child Education Plan offered by LXME is a perfect solution for securing your child's future. Don't miss out on this opportunity to give your child the best education possible.
Take action now and invest in their dreams with LXME!
Pro-Tip: Don't put all your eggs in one basket!
For example, if your goal is for the long term, you can put a major chunk in equity-based investment options, some part of it in debt, and a small portion in gold investment options.
Ideally, one can allocate 5-10% towards gold as it hedges your portfolio against inflation and market volatility.
The proportion of equity, debt, and gold in your portfolio depends on an individual's risk appetite and goals.
Gold acts as a hedge against inflation, debt and fixed-income instruments offer stability and security, and equity aims at offering inflation-beating returns.
Therefore, be a savvy investor and diversify your investments to achieve a balanced investment portfolio that helps you manage risk effectively.
Now let's look at a step-by-step approach for building the corpus you need to fund your daughter's education goals!
Step 1 – Decide your time horizon
Determine the time period of your goal. You need to calculate the number of years to your daughter's graduation and post-graduation.
Step 2 – Calculate the amount you need to invest
Use LXME's Child Education Calculator. Just enter the required details and by taking inflation into consideration, it will calculate how much corpus will be required for his higher education and the amount you need to invest to reach that corpus.
Step 3 – Plan your investments and start investing smartly
Choose the investment avenues smartly that align with your goals.
Step 4 – Review your portfolio's progress against goals.
Always keep track of your plan. Yearly/half-yearly reviews could be beneficial for keeping track of your progress with regard to your goals.
You can check out this blog for more details on how you can plan your child's education.
Bottom line –
Investing in your daughter's financial future requires careful consideration and evaluation of available investment plans. By investing wisely you can empower your daughter's dreams and help her achieve her goals.
Related Article You may Like :- Financial Mistakes to Avoid: Secure Your Future by Avoiding These
---
FAQs – Common Questions on Best Investment For Girl Child
Which is the best future investment plan for a girl child?
When considering the best investment plan for a girl child, several options are available, including Sukanya Samriddhi Yojana, Mutual Funds, and Fixed Deposits. Each has its benefits, and the choice depends on your specific financial goals and risk tolerance. Explore the LXME blog for detailed insights.
How can I invest my daughter?
Investing for your daughter's future can be done through various avenues like SIPs in mutual funds, recurring deposits, or specific girl child investment schemes like Sukanya Samriddhi Yojana. The right choice depends on your financial objectives and risk appetite. Discover more options in the LXME APP.
Which is better than Sukanya Samriddhi Yojana?
While Sukanya Samriddhi Yojana is a popular choice, other investment options like Mutual Funds or Public Provident Fund (PPF) may offer competitive returns and flexibility. To find the one that suits your requirements.
What is the post office scheme for girl children?
The post office offers various savings schemes suitable for girl children, such as the Sukanya Samriddhi Account. These schemes provide attractive interest rates and tax benefits. To explore more options and details, visit the LXME blog.
Discover LXME's latest insights and tips on financial empowerment in this captivating Instagram Reel video. Watch now!
To stay connected with LXME and access inspiring content, follow us on Instagram and subscribe to our YouTube channel.
Share this blog with your family and friends if you find it insightful!!
Download the LXME app now to start investing!
other blogs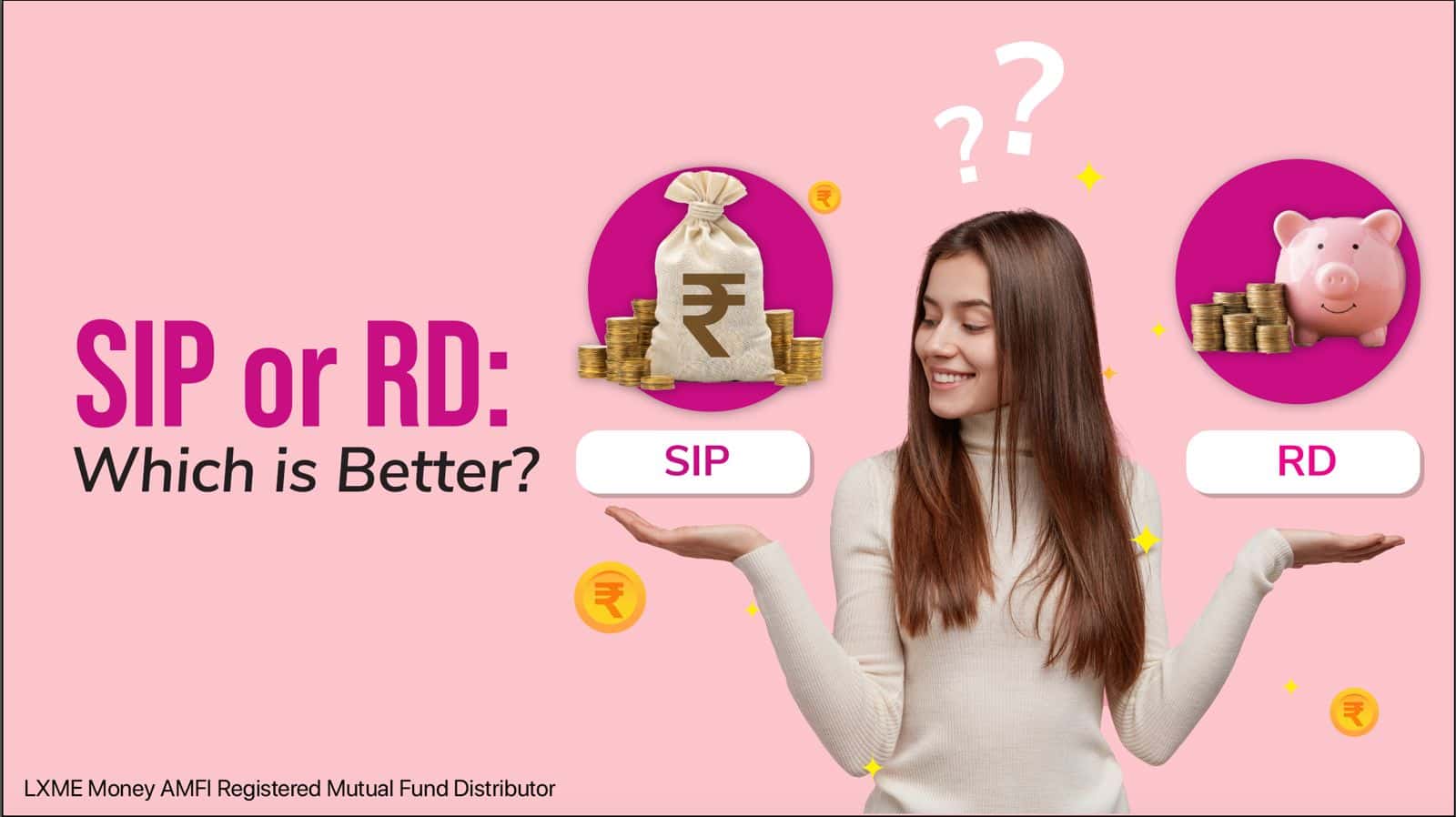 Smart Money
November 23, 2023
Is SIP better than RD?
In this inflation-bearing world just investing in Recurring Deposits (RD), Fixed Deposits(FD), Physical Gold, Savings Deposits, etc. is not enough as their returns cannot beatinflation. Besides, women are very conservative investors and prefer RD over mutual funds,however, now its time to upgrade ourselves. So, what should one do to get inflation-beating returns and get the … Is SIP better than RD?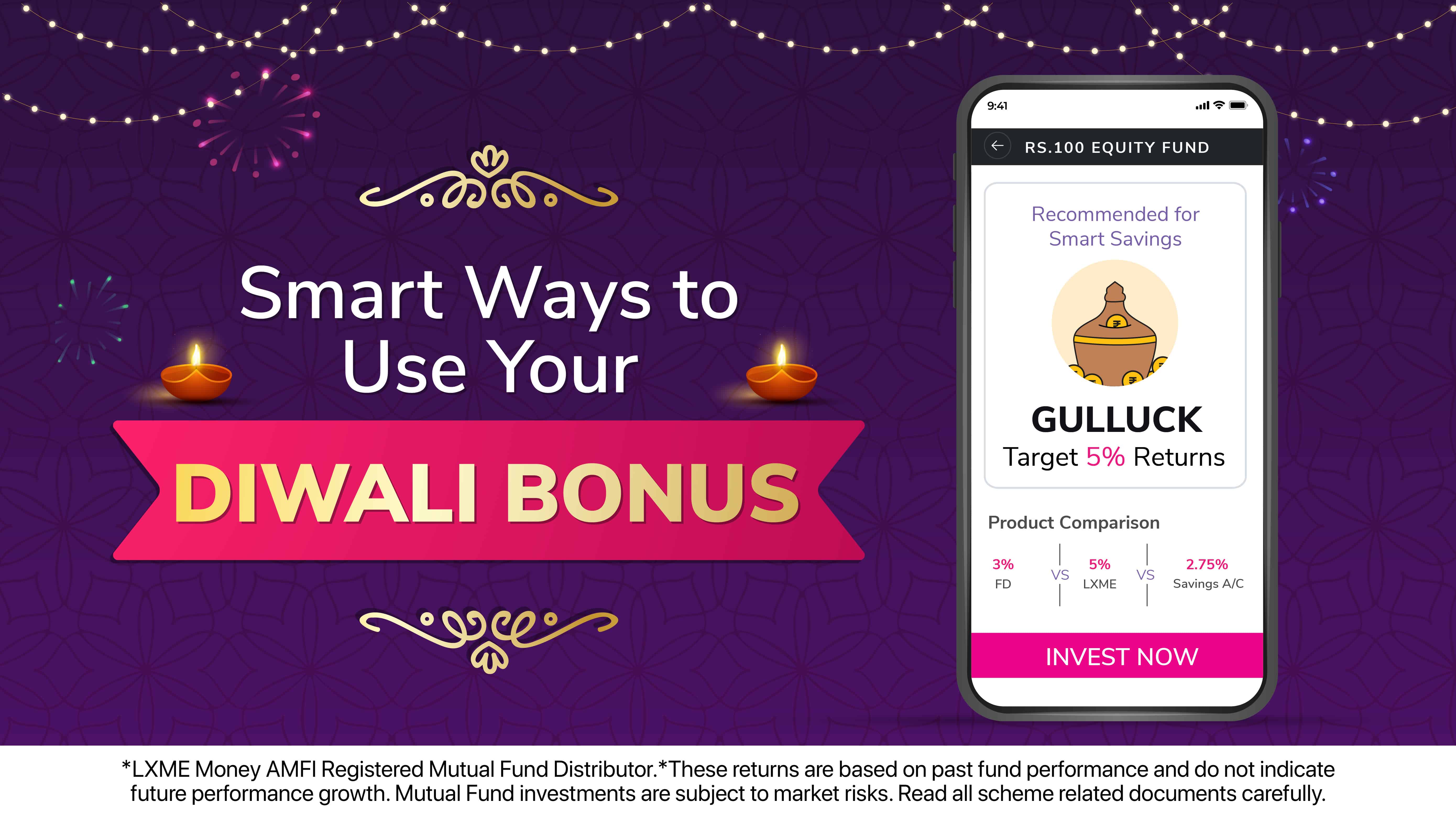 Smart Career Smart Money
SMART WAYS TO USE YOUR DIWALI BONUS
It's always a great surprise to receive that well-deserved bonus during Diwali, after all, Lakshmi ko kaun mana karta hai? But spending that bonus is the trick most of us struggle with. Don't worry, LXME will teach you how to spend bonus money and how to invest bonus money. Let's follow the 50, 40, 10 … SMART WAYS TO USE YOUR DIWALI BONUS