Want to take control of your personal finances and grow your money, but don't know how? ?
Don't worry, LXME is at your rescue!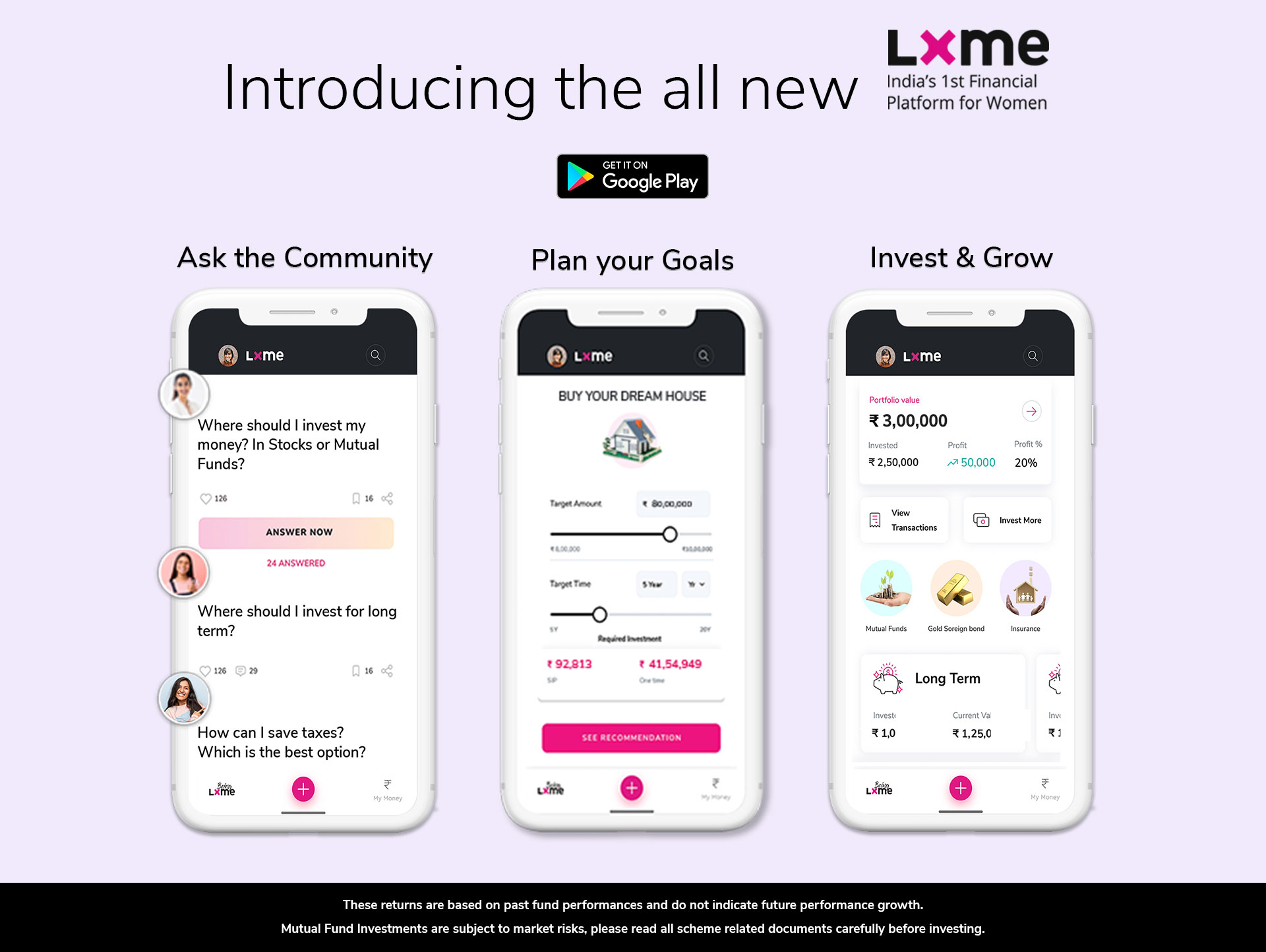 LXME was born out of a deep desire to see every single woman take charge of her money, make her financial decisions, confidently & independently and to be able to talk about all things money!
Last year, this time we started the BeingLXME community since there was no one safe place for women to learn, talk, discuss money. Today, BeingLXME is a 10k women strong community.
So here's what we have for YOU on the new LXME App.
LXME Community Experience: A place for you to discuss all things money with several other women.
Calculators: Savvy calculators that can be used to calculate Tax, plan retirement, to account for financial goals and more!
Smart UI/UX: To make you love money and investments.
My Money: An upfront information booth on Mutual Fund portfolios.
NO Bugs: You don't like them, neither do we! So we got them out.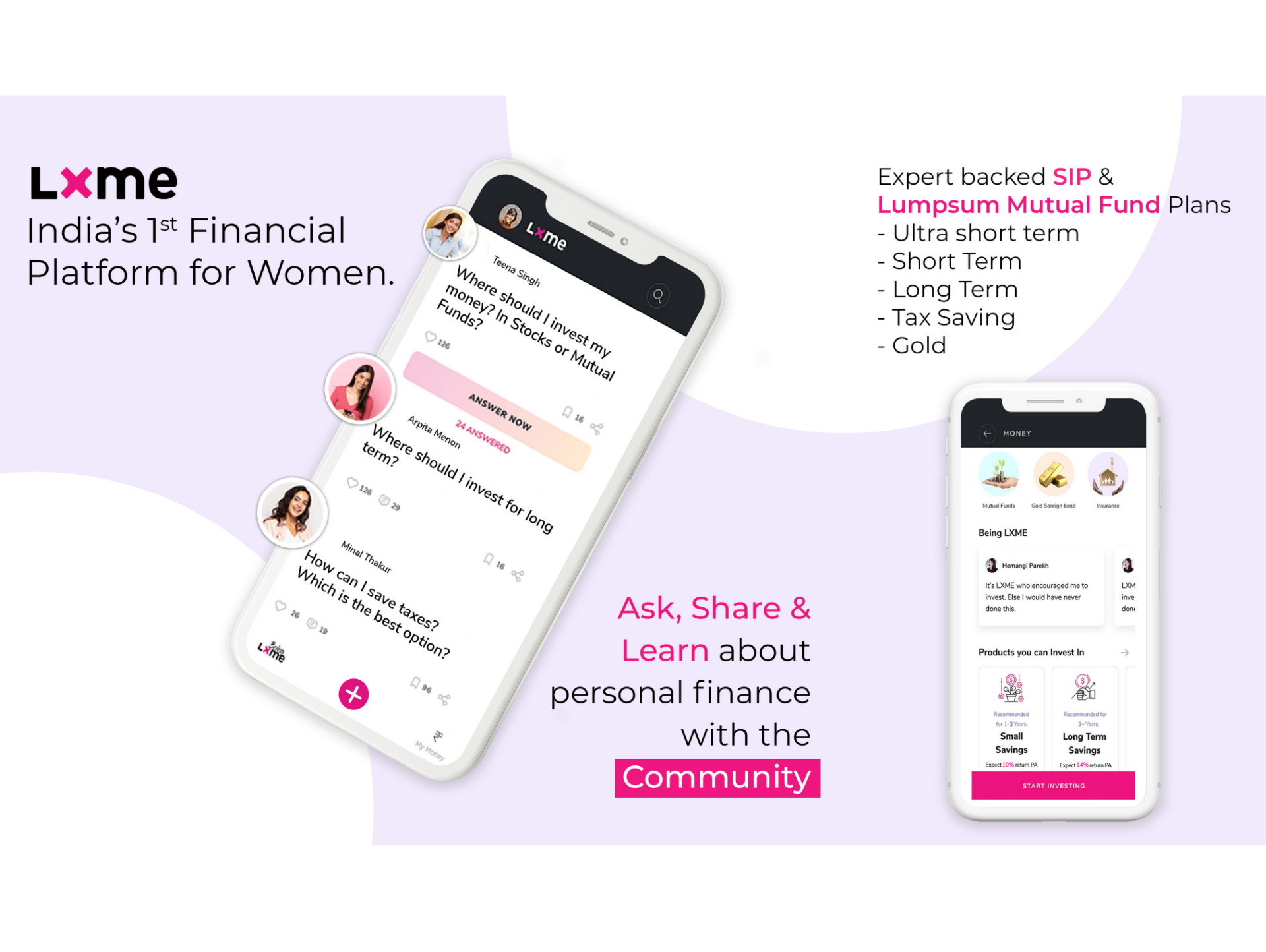 LXME is India's 1st financial platform for women, backed by Anand Rathi, a leading investment services firm that has been active in the Indian market for the past 25 years.
Starting with a valuable women-only community to discuss all things money, to smart content to give you the right financial education to build your wealth, to tips to manage your personal finance, and finally, investment options like gold, insurance, & mutual funds, that are based on your financial goals, LXME is a one-stop destination for all things women & money.
Do more with LXME
✔ BeingLXME Community
When women support women, great things happen!
Women have multiple forums, groups, communities to talk about health, shopping, business but where do you talk about MONEY? At the BeingLXME Community!
BeingLXME is a safe, transparent platform where we learn to take charge of our own money and make smart money moves to build our own wealth! Here's your chance to be part of a women-only community focused on financial independence and financial education, where you are not judged for being honest about your money aspirations, your wealth goals, or your questions on how to invest and manage your personal finance.
✔ Think & Learn
Smart content for smart women
With the LXME app, get the right financial education to grow your money and build your wealth. The LXME app comes with unique content that covers everything that could affect your money and your journey of wealth creation.
-Blogs from our financial experts about all things money
-Q&A on wealth creation
-Tips on managing personal finances
-Learn about various investments options such as Mutual Funds, Insurance, and Gold
✔ Invest
The LXME app is an uncomplicated investment platform for women to help you build your wealth. We have a wide array of portfolios, tailored to cater to your financial needs.
-Ultra Short Term Mutual Funds:
Wanna go on a trip to Italy in 6 months? ✈
This Mutual Fund Portfolio is then your best option! Hand-picked for your immediate/extremely short-term goals (within a year), these debt funds are extremely low-risk.
-Short Term Mutual Funds:
Planning for funding your graduate school education in 2 years?
Short-term Mutual Funds are for you then! This Mutual Funds Portfolio is best suited for all your short-term money goals that come under the time frame of 1 to 3 years.
-Long Term Mutual Funds:
Plan to start your own company in 5 years?
The long-term Mutual funds are then for you, my friend! These handpicked portfolios are best suited for your wealth goals that come under the time frame of more than 3 years.
-Tax Saving Mutual Funds:
Want to Save your Taxes?
With our portfolio of tax-saving Mutual funds, get guaranteed tax-free returns after a 3-year lock-in period. You can claim up to Rs. 1.5 lakh of your ELSS investment as a deduction from your gross total income in a financial year under sec 80C of the Income Tax Act.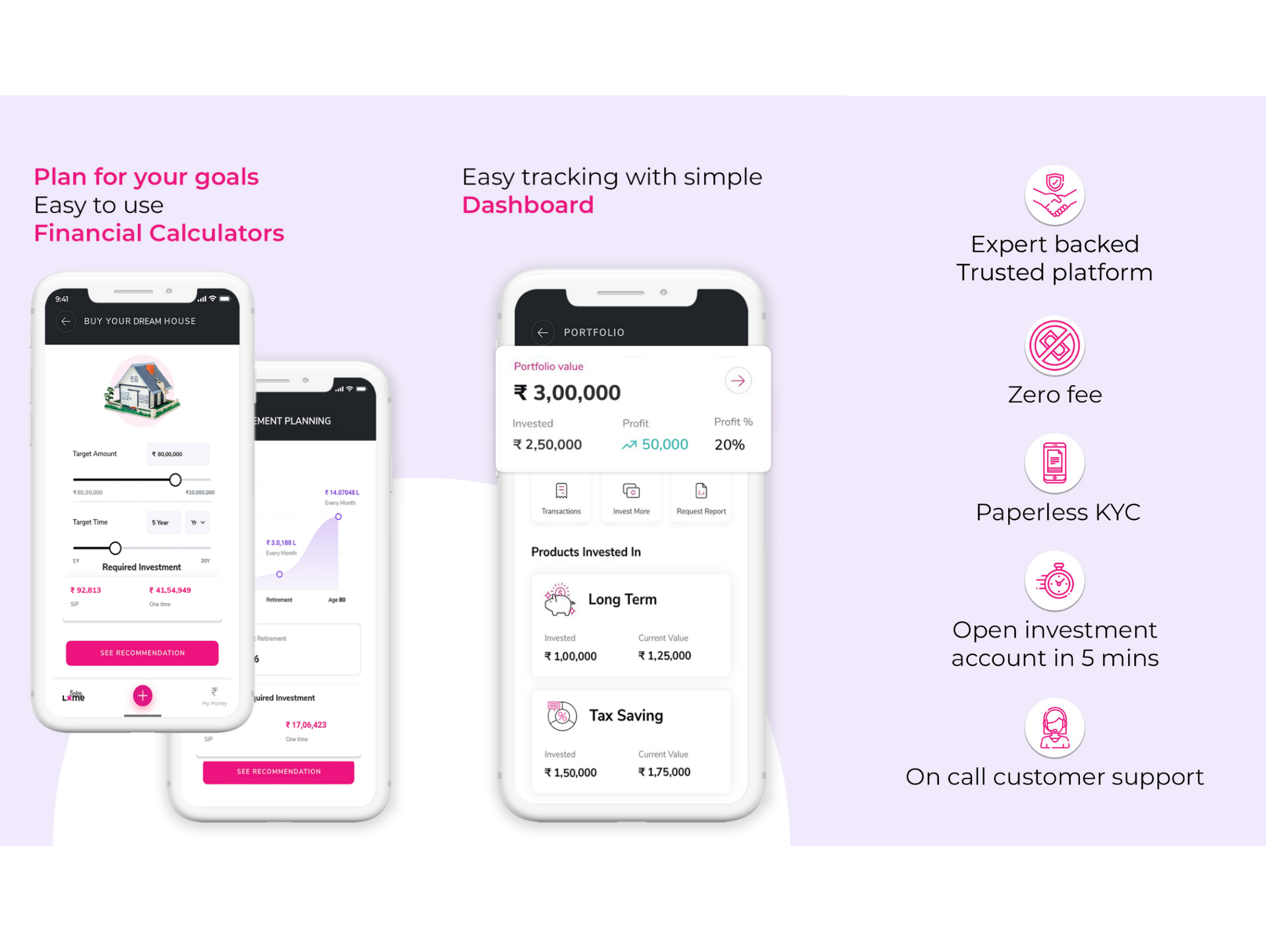 LXME App Features
Uncomplicated and hassle-free investment app for women to manage your personal finance
Plan for your financial goals and your investment amount with our Smart Financial Calculators- Tax Calculator, Retirement Calculator, Goal Calculator
Multiple opportunities tailored for your needs
Zero fees (No catch here!)
Track all your investments with clutter-free and secure dashboards
Get the right financial education
other blogs